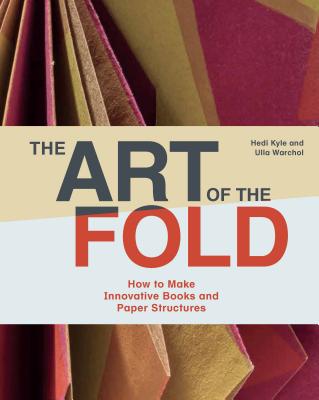 The Art of the Fold
How to Make Innovative Books and Paper Structures (Learn paper craft & bookbinding from influential bookmaker & artist Hedi Kyle)
Hardcover

* Individual store prices may vary.
Other Editions of This Title:
Paperback, Chinese (7/4/2020)
Description
"The influential artist Hedi Kyle and renowned architecture graduate Ulla Warchol shows you how to create their unique designs using folding techniques. From creating flag books and fishbones, to blizzards and nesting boxes, you'll gain an invaluable insight into the work of two skilled artists with this fun read! With the help of their thorough instructions and simple illustrations, you'll be on your way to becoming a pro paper crafter in no time at all" – Sew magazine

"A wonderful insight into the work of a truly skilled artist" – PaperCrafter

The renowned and influential book artist Hedi Kyle shows you step–by–step how to create her unique designs using folding techniques in The Art of the Fold. Bookbinding and paper craft projects include flag books, blizzard books, the fishbone fold, and nesting boxes.

Written by the doyenne of artists' books, Hedi Kyle, The Art of the Fold is a wonderful insight into the work of a truly skilled artist. Hedi will show you how to bind a book and fold paper to create over 35 of her cut–fold book designs. The book is beautifully illustrated with Hedi's finished works of art.

An excerpt from the book:
'I can still remember the thrill I experienced when my first folded book structure emerged from my fingers – how eager I was to explore its possibilities and to share it with whoever was interested. The Flag Book, as I now call it, is a simple accordion and has interlocking pages oriented in opposite directions. Little did I know that this simple structure would have legs and be the catalyst for the next forty–plus years of thinking about and making books.

The common perception of the book today is fairly straightforward: a series of pages organized around a spine and protected on either side by two covers. This format allows for easy access, storage and retrieval of information. Yet what happens when the book is stripped away of centuries of preconceptions and is allowed to reveal something else: playfulness, utility, invention? Expanding the notion of the book is what the structures in the following chapters of The Art of the Fold attempt to do. Exploring its tactile, sculptural form, primarily through folding methods, the book as a structural object is celebrated while content is considered in a new and unconventional way.

My range in this medium has always been broad. In part this is due to my introduction to the world of bookbinding and some chance encounters. In the 1970s in New York City, the art and craft of hand bookbinding and papermaking were experiencing an unprecedented revival. I was fortunate to arrive in the city at just this moment. With an art–school background and an impulse to make things, I was naturally drawn to pursue this new opportunity. The Center for Book Arts, the famous forerunner of so many centers yet to come, was located in a small storefront just down the street from where I lived on the Lower East Side of Manhattan. Under the direction of founder Richard Minsky, it had a radical mission: to push concept, materials, printing and making of artist books in a new direction. When Richard dared me to teach at the Center one evening a week, I was hooked.

My career as a book conservator and a book artist has now spanned over 45 years. As head conservator at the American Philosophical Society in Philadelphia, I've had the opportunity to handle some of the rarest volumes and manuscripts in the world. I have also dealt with decrepit books, torn maps and countless curiosities discovered in stacks and archives. All were endless sources for ideas and provided a springboard for a departure from tradition. Leading book–arts workshops around the world and a 25 year tenure teaching in the graduate program for Book Arts and Printmaking at the University of the Arts in Philadelphia have shown me, in retrospect, that the more I taught, the more it propelled me to experiment and develop my ideas. The many students I have had over the years were always my biggest inspiration, and they continue to be so.' – Hedi Kyle, Pine Hill, NY Sept 2017
Praise For The Art of the Fold: How to Make Innovative Books and Paper Structures (Learn paper craft & bookbinding from influential bookmaker & artist Hedi Kyle)…
This is not a bookmaking instruction manual for beginners. Those interested in the artistry of paper folding for practical use or creative expression will pore over the gorgeous photos.and be inspired by the handmade papers, novel notions and accoutrement, clever examples, and manageable instructions. A lovely book for handmade-book lovers.-Booklist
Laurence King Publishing, 9781786272935, 192pp.
Publication Date: October 2, 2018
About the Author
Hedi Kyle has been described as a book structure magician. She recently retired as Head Conservator at the American Philosophical Society, and was Adjunct Professor at the University of the Arts in Philadelphia. Her one-of-a-kind constructions have been exhibited internationally.

Ulla Warchol graduated from The Cooper Union in New York City with a degree in architecture. After working in the field in the 1990s, Ulla has spent the last two decades developing a multidisciplinary approach to structure. She leans toward a broad exploration of materials and techniques in both large-scale and small-scale works.