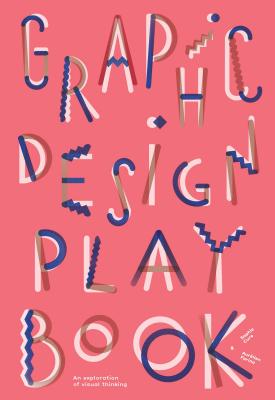 Graphic Design Play Book
An Exploration of Visual Thinking (Logo, Typography, Website, Poster, Web, and Creative Design)
Paperback

* Individual store prices may vary.
Description
'Truly something that's just a beautiful, slick, and very enjoyable little publication' – CreativeBoom

"Graphic Design Play Book features a variety of puzzles and challenges, providing a fun and interactive way for young visual thinkers to engage with the world of graphic design" – Eye

Understand how graphic design works and develop your visual sensibility through puzzles and activities!

An entertaining and highly original introduction to graphic design, the Graphic Design Play Book uses puzzles and visual challenges to demonstrate how typography, signage, logo design, posters and branding work.

Through a series of games and activities, including spot the difference, matching games, drawing and dot–to–dot, readers are introduced to graphic art concepts and techniques in an engaging and interactive way. Further explanation and information is provided by solution pages and a glossary, and a loose–leaf section contains stickers, die–cut templates, and coloured paper to help readers complete the activities.

Illustrated with typefaces, poster design and pictograms by distinguished designers including Otl Aicher, Pierre Di Sciullo, Otto Neurath and Gerd Arntz, the book will be enjoyed both by graphic designers, and anyone interested in finding out more about visual communication.

An excerpt from the book:
How many ways are there of saying 'hello'? Probably a zillion. And there are surely just as many ways of writing it. In CAPITALS, and with an exclamation mark ! Or with a question mark ? Or maybe both ?! As a tiny black word in the middle of a white page; or with large, multi–coloured, dancing letters ; maybe with a simple shape or an image.

Being interested in graphic design means looking at and understanding the world around us. And being aware of the multitude of signs that shape our daily life day after day and freight it with meaning – whether it's a stop sign, a cornflakes packet, a psychedelic album cover, a seductive headline on the cover of a magazine, the more subtle typography of a page in a novel, a flashing pharmacy sign or the credits of a sci–fi film.

Thinking about this plethora of signs was what led us to conceive this introduction to graphic design as a collection of beacons and benchmarks – as a toolbox for exploring and learning in a simple and intuitive way through play, alone or with others, whether you're a child or an adult. These are experiments, a series of suggestions, with no right or wrong answers.

The four sections of this book – typography, posters, signs, identity – are all invitations to dive in, explore and let your eyes and your hands take you on a voyage of discovery! – Sophie Cure and Aurélien Farina
Laurence King Publishing, 9781786273963, 80pp.
Publication Date: June 25, 2019
About the Author
Sophie Cure is a graphic designer based in Paris. She has run her own studio since 2012, focusing on visual identities, editorial design, and educational tools.

Aurélien Farina is a French–Swiss graphic designer based in Paris. He founded Paper! Tiger! studio in 2011, specializing in editorial and print design.