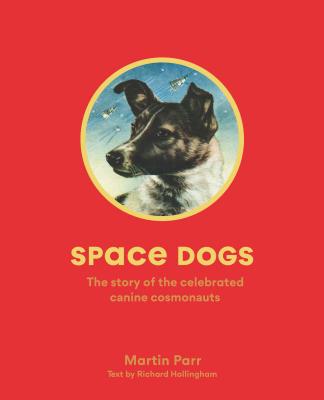 Space Dogs (Paperback)
The Story of the Celebrated Canine Cosmonauts
Laurence King Publishing, 9781786274113, 128pp.
Publication Date: June 11, 2019
* Individual store prices may vary.
Description
This fascinating book tells the story of the soviet space dogs, illustrated with legendary photographer Martin Parr's vintage space-dog memorabilia.

In the 1950s the space race between the USA and the USSR was well and truly on, and was for both a matter of pride and propaganda. But before man ventured into the cosmos, his four-legged friends would pave the way for space exploration.

The first canine cosmonaut was Laika, meaning 'barker'. The little stray could never have anticipated that she would one day float 200 miles above the Moscow streets. She would be canonized as a proletarian hero, appearing on stamps, postcards and souvenirs. Her successors were Belka and Strelka, the first dogs to successfully return safely to Earth, and with them, the cult of the space dog was born.

In a regime that eschewed celebrating individual achievement, the space dogs became Soviet superstars, with a vast array of merchandise, books and films in their honor.

A must for read for fans of Soviet Space Dogs by Olesya Turkina and Designed in the USSR: 1950-1989 by Moscow Design Museum..
About the Author
Internationally acclaimed documentary photographer Martin Parr is also known for his astonishing and witty collections of twentieth-century ephemera. Previous publications include Boring Postcards, The Last Resort and a retrospective of his work, Martin Parr. He has also been involved in several TV and film collaborations.
Praise For Space Dogs: The Story of the Celebrated Canine Cosmonauts…
"This was a short yet fascinating look at the space dogs program that balanced respect toward the sacrifices thee dogs unwittingly made in the name of human progress, with enthusiasm for what was achieved by them." GeekMom

Space Dogs is a short but charming look at the space race from a different, and fluffier, angle. Foreword Reviews

"While all the photos are captivating, the reader will gain special insight into the Soviet Union's pioneering spaceflight exploits, including the true fate of Laika onboard the country's second orbiting satellite." -Inside Outer Space