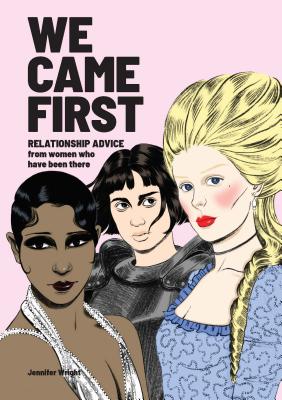 We Came First
Relationship Advice from Women Who Have Been There (Humor Dating Book, Women in History Book)
Hardcover

* Individual store prices may vary.
Description
The modern guide to seduction and dating for badass ladies.

"…expert advice from historical icons" Flavorwire Book of the Week

Jennifer Wright's We Came First offers the ultimate relationship advice from the women who have been there. History's most fabulous, revered and sassy women provide wise counsel about modern life's romantic complexities, from dating apps, to feminist conundrums and how not to give a f*ck. In her punchy new book, bestselling author Jennifer Wright imagines how history's most powerful women would approach current–day dating anxieties, with agony–aunt–style questions, quirky illustrations and more.

Ever wondered what Cleopatra would have to say about making the first move? Or how Grace Kelly would recommend making your feelings known? The book champions the complicated love lives of the women who came first. Some of it bad(!) – all of it relatable – advice from history's most audacious agony aunts includes:

Amelia Earhart on Keeping your identity
Marilyn Monroe on Pleasing yourself
Marie Antoinette on Rising to the occasion
Queen Victoria on Motherhood
Eleanor Roosevelt on Keeping your career
Frida Kahlo on Having your own space
Dorothy Parker on Overcoming heartbreak
Greta Garbo on Breaking an engagement
Pocahontas on Having a voice
Jane Austen on Self–sufficiency
Coco Chanel on Defying expectation

With hilarious quizzes on:

Which flirty era you belong to
What your engagement ring will look like
Who your celebrity partner would be
How you should mend your broken heart
Your must–have single woman item

We Came First is the perfect gift for those looking for dating advice (from historical ladies!)

Fans of It Ended Badly will love this witty guide to seduction from history's most badass women.

"I hope you can use it to dispel myths about dainty, delicate ladies of the olden days and champion the complicated love lives of the women who came first. In every sense of the phrase." Jennifer Wright
Praise For We Came First: Relationship Advice from Women Who Have Been There (Humor Dating Book, Women in History Book)…
"No offense to Dear Abby, Dan Savage, Cosmopolitan and every dating advice podcast to ever exist (including mine), you are no longer needed. Jennifer Wright has all of the relationship advice you'll ever need thanks to Zelda Fitzgerald, Cleopatra and Joan of Arc. The fact that it's also whip-smart, incredibly well researched and hilarious are just bonuses!" Laura Lane co-author of This Is Why You're Single

"The worst thing about love is how lonely it can make you feel. When it's wonderful, you feel special, as if you and your partner invented sex, as if no one had ever looked so long and adoringly into another's eyes. So it follows then that when love ends, your heartbreak will feel unbearably unique. Enter Jennifer Wright and her army of historical women cum advice columnists. Whether you are entering or exiting love's locked room, Ms. Wright's witty (and delightfully cockeyed) advice book offers contemporary readers excellent company. Through the imagined voices of Cleopatra, Joan of Arc, and many others (who respond to contemporary relationship questions with hilarious, inspiring, and cringe-worthy stories from their own lives), Ms. Wright reminds us that not only are we not alone, but we've got all of history on our side. Iris Smyles, author of Iris Has Free Time and Dating Tips For The Unemployed

"We Came First is smart, funny, feminist and in true Wright fashion, even delightfully educational! This book would make the perfect present for a friend who needs some guidance and a laugh." Loryn Brantz Author of the Bestselling board book series, Feminist Baby

"A hilarious reminder that the women of the past were just as bold, brave, and unabashedly "difficult" as they are today." Rachel Hills, author of The Sex Myth: The Gap Between Our Fantasies and Reality

"The answers are so spot on that at first I thought Jennifer Wright must have held séances, consulted mediums and used a Ouija board to channel and consult the spirits of these glamorous and powerful women in the afterlife. When I saw her bibliography I realized she must have spent over a year in libraries sleuthing the most relevant answers to love in the world! The best advice comes from Sappho: "Love who you love. Life is short. I should know- I'm long dead." Laren Stover, author of The Bohemian Manifesto and The Bombshell Manual of Style

"A Good Book full of Bad Advice from Great Women, written by a Delightful Person. -Stephen Colbert

Ever wondered what Cleopatra would tell you about your dating life? How about what advice Marie Antoinette might have about erectile dysfunction? Jennifer Wright has you covered in this bitingly funny feminist jewel of a book. Andrea Dunlop, author of We Came Here to Forget

"Jennifer Wright was among the world's most entertaining historians before she wrote this delightful book, which includes, among other gems, a detailed account of Mary Shelly carrying around her dead husband's heart in a bag. We Came First is a goddamn treasure trove of fun facts. Lauren Duca, author of How to Start a Revolution: Young People and the Future of American Politics
Laurence King Publishing, 9781786275028, 120pp.
Publication Date: October 1, 2019
About the Author
Jennifer Wright is the political editor at large for BAZAAR.com. She's been published in The New York Times, The New York Post, The New York Observer, TheNewYorker.com and some publications that don't have New York in their title. She lives in Brooklyn with her husband, Daniel Kibblesmith.
or
Not Currently Available for Direct Purchase