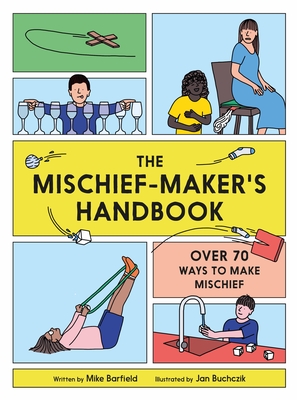 The Mischief Maker's Handbook
Paperback

* Individual store prices may vary.
Description
Learn how to make mischief with this hilarious, fully illustrated handbook. Clear step-by-step activities and annotated diagrams will transform you into the mischief-maker that you've always wanted to be. From turning your body into an orchestra, to making invisible ink and rubber band catapults, it's all covered in this comprehensive guide.

The book includes top-secret DIY hacks to make your own practical jokes, exasperating questions to ask adults, and top tips on how to get away with (almost) anything!

Written by Mike Barfield, the barmy brains behind The Ultimate Wisecrack Generator, The Element in the Room, and many more, who has over 25 years' experience of working in TV, radio, books, newspapers and magazines, and also enjoys performing in schools, libraries, bookshops, and festivals, often dressed as a giant housefly.

The Mischief Maker's Handbook is expertly illustrated by Frankfurt-based illustrator Jan Buchczik, whose clients include The New York Times, The Guardian, and Vanity Fair.

This book is sure to make grown-ups groan, teachers tremble, siblings sigh and family and friends freak out as it's packed-full with instructions and hilarious tips throughout. Its chapters include: Make a Fake, Flying Things and Flinging Things, Sneaky Science, Noisy Toys, Busy Bodies, Mad Magic, and Champion Challenges.
Praise For The Mischief Maker's Handbook…
"In The Mischief-Maker's Handbook, Mike Barfield presents dozens of tricks and practical jokes designed to entertain and, if all goes right, annoy. A majority of the activities, which are bundled into themed chapters ("Sneaky Science," "Make a Fake," etc.), can be attempted with household objects like felt-tip pens, rubber bands, playing cards and coins. Jan Buchczik illustrates this treasure trove of troublemaking with cartoonish art featuring kids hard at work on whoopee cushions, stomp rockets, water bombs ("No one should be allowed to leave school until they know how to make one") and musical instruments guaranteed to emit "a satisfyingly awful sound every time." Expect some readers to prioritize activities that are a double threat: what Barfield calls "rude and stupid at the same time." Shelf Awareness
Laurence King Publishing, 9781786275516, 96pp.
Publication Date: April 7, 2020
About the Author
Mike Barfield is a comic writer, cartoonist, poet and performer. He performs in schools, libraries, bookshops, and festivals, often dressed as a giant housefly.

Jan Buchczik is an illustrator based in Frankfurt, Germany. His clients include The New York Times, The Guardian and Vanity Fair.
or
Not Currently Available for Direct Purchase