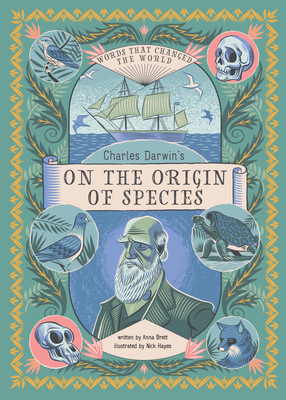 Charles Darwin's On the Origin of Species
Words That Changed the World
Hardcover

* Individual store prices may vary.
Description
Darwin's theory of evolution written in an accessible format and richly illustrated throughout for children aged 7+.

Part of the non-fiction series Words that Changed the World, this book is an accessible guide to the theory of evolution, presented in an attractive format with beautiful illustrations throughout.
Written by Anna Brett and richly illustrated by Nick Hayes, it lets the young reader discover how Darwin changed our understanding of the human race – and our place within the animal kingdom – with his ground-breaking work, On the Origin of Species. Divided into short yet comprehensive chapters, children will be able to learn about one of the most significant theories of mankind and discern the ideas – as well as their consequences – of one of the most influential scientists in the world.

The book includes a glossary of key terms and concepts and is an invaluable companion for the understanding of Darwin's theory, perfect for both the home setting and the school environment. It's suitable for kids aged 7+ and is a must-have for anyone who wants to learn and explore the notions of one of human history's most remarkable people.

It charts Darwin's life-changing voyage on the Beagle and introduces his theory of evolution to apprentice naturalists everywhere.
Praise For Charles Darwin's On the Origin of Species: Words That Changed the World…
"The book takes the science into present day, asking what we know now and what remains to be discovered. Books like these are exactly what's needed to inspire the next generation of scientists." -
NY Journal of Books
,
Laurence King Publishing, 9781786278869, 64pp.
Publication Date: February 16, 2021
About the Author
Anna Brett is a creative author and editor. She's written and edited a huge variety of books for children, ranging from curriculum-based reference works to popular culture and books with digital extras, pop-ups and stickers. Her favorite books to work on are those that take you around the world on paper.