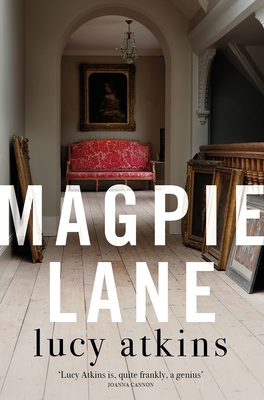 Magpie Lane (Hardcover)
Quercus, 9781786485571, 368pp.
Publication Date: February 9, 2021
* Individual store prices may vary.
Description
"Intricate, intelligent, immensely satisfying, and with a deliciously spooky edge" --Cara Hunter, author of In the Dark
Roaming through Oxford's secret passages and hidden graveyards,
Magpie Lane
explores the true meaning of family--and what it is to be denied one.
When the eight-year old daughter of an Oxford College Master vanishes in the middle of the night, police turn to the Scottish nanny, Dee, for answers.
As Dee looks back over her time in the Master's Lodging--an eerie and ancient house--a picture of a high achieving but dysfunctional family emerges: Nick, the fiercely intelligent and powerful father; his beautiful Danish wife Mariah, pregnant with their child; and the lost little girl, Felicity, almost mute, seeing ghosts, grieving her dead mother.
But is Dee telling the whole story? Is her growing friendship with the eccentric house historian, Linklater, any cause for concern? And most of all, why was Felicity silent?
"Highly Intelligent" --Sarah Vaughan, author of Anatomy of a Scandal
"Beguiling" --Mick Herron, author of the Slough House series
About the Author
Lucy Atkins is an award-winning feature journalist and author, as well as a Sunday Times book critic. She has written for many newspapers, including the Guardian, The Times, The Sunday Times, and the Telegraph, as well as magazines such as Psychologies, Red Woman, and Grazia. She lives in Oxford, England.
Praise For Magpie Lane…
"That rare thing: a thriller that warms your heart even as it chills your spine. I adored it on so many levels - the page- turning tension, the emotional depth of the central relationship. Simply brilliant!"
—JP Delaney


"Clever and creepy, twisty yet tender: Magpie Lane will have you hearing footsteps overhead in an empty house. I loved it."—Erin Kelly, author of Stone Mothers

"Full of hidden chambers, and some of them are haunted... part thriller, part love story, wholly beguiling. I was glued to every page."—Mick Herron, author of the Slough House series

"Lucy Atkins excels at creating highly intelligent, slightly eccentric outsiders. I was completely immersed... and preoccupied, and appalled, by such credible characters. I loved it."—Sarah Vaughan, author of Anatomy of a Scandal

"The most sublime book I've read since Apple Tree Yard... masterful writing from an experienced hand. I'll be gushing about this for awhile."—Jo Spain, author of Dirty Little Secrets

"The plot keeps you guessing, the characters are well developed and there's a real sense of menace."—Good Housekeeping

"The narrative tugs the heartstrings and grips the emotions as it moves inexorably to a conclusion which is both surprising and inevitable, like all the best mysteries."—Mystery People

"...spellbinding and spooky thriller... a dazzling high wire act, superbly absorbing"—Sunday Mirror

"It is a long time since I have enjoyed a book as thoroughly as I enjoyed Magpie Lane, which reminded me variously of Iris Murdoch, Ruth Rendell, Donna Tartt and Daphne du Maurier. I adored the narrator, and it was an utter joy to relish Atkins's wonderfully skilled and unobtrusive writing and lose myself in the mystery"—Sarah Perry

"I fell hard for the beautiful writing and ghostly mood of Magpie Lane. Dee, a riveting Russian doll of a character, had me in her thrall from start to finish. Highly recommended."
—Louise Candlish


"With the atmosphere of Inspector Morse and the tension of Agatha Christie, this is a great quick read that leaves you thinking."
—Ox Magazine