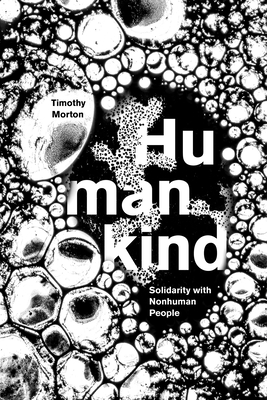 Humankind
Solidarity with Nonhuman People
Hardcover

* Individual store prices may vary.
Other Editions of This Title:
Digital Audiobook (3/26/2018)
Paperback (1/15/2019)
Description
A radical call for solidarity between humans and non-humans

What is it that makes humans human? As science and technology challenge the boundaries between life and non-life, between organic and inorganic, this ancient question is more timely than ever. Acclaimed object-oriented philosopher Timothy Morton invites us to consider this philosophical issue as eminently political. In our relationship with nonhumans, we decide the fate of our humanity. Becoming human, claims Morton, actually means creating a network of kindness and solidarity with nonhuman beings, in the name of a broader understanding of reality that both includes and overcomes the notion of species. Negotiating the politics of humanity is the first crucial step in reclaiming the upper scales of ecological coexistence and resisting corporations like Monsanto and the technophilic billionaires who would rob us of our kinship with people beyond our species.
Praise For Humankind: Solidarity with Nonhuman People…
"I have been reading Timothy Morton's books for a while and I like them a lot."
—Björk

"Considered by many to be among the top philosophers in the world, especially among those tackling issues related to human effects on our environment, Morton herein provides an important, spirited, and sometimes frenetic analysis of the foundational assumptions of Marxism and other -isms with regard to nature and culture."
—Jeff Vandermeer, author of The Southern Reach trilogy, The Millions

"A very good introduction to what Theory (capital T) might have to say about climate change and species die-off."
—Ted Hamlton, Los Angeles Review of Books

"A great work of cognitive mapping, both exciting and useful."
—Kim Stanley Robinson, author of The Mars Trilogy (in praise of Hyperobjects)

"His book exemplifies the 'serious' humanities scholarship he makes a plea for. My head's still spinning."
—Noel Castree, Times Higher Education
 (in praise of The Ecological Thought)

"Sassy, brilliant, a genuine engagement with and of thought, this work tunes us to a thrilling, endorphinating way of thinking: my drug of choice."
—Avitall Ronell, New York University (in praise of Nothing: Three Inquiries in Buddhism)

"Timothy Morton is a master of philosophical enigma. In Dark Ecology, he treats us to an obscure ecognosis, the essentially unsolvable riddle of ecological being. Prepare to be endarkened!"
—Michael Marder, author of The Philosopher's Plant
 (in praise of Dark Ecology)

"A poetic tour de force that is both academically and philosophically rigorous."
—Steven Umbrello, Journal of Critical Realism

"Drawing from the Buddhist understandings of emptiness and form, Morton develops a version of 'object oriented ontology' that seeks connection and particularity without essences, fully formed identities, or wholes."
—Whitney A Bauman, Religious Studies Review
Verso, 9781786631329, 224pp.
Publication Date: August 22, 2017
About the Author
Timothy Morton is Rita Shea Guffey Chair in English at Rice University. He is the author of Dark Ecology: For a Logic of Future Coexistence; Nothing: Three Inquiries in Buddhism; Hyperobjects: Philosophy and Ecology after the End of the World; The Ecological Thought; and Ecology without Nature.
or
Not Currently Available for Direct Purchase