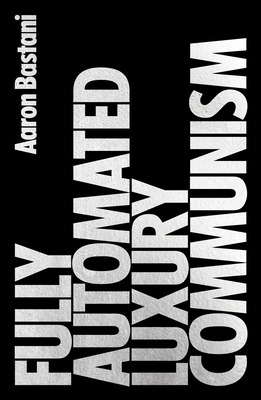 Fully Automated Luxury Communism
Hardcover

* Individual store prices may vary.
Other Editions of This Title:
Digital Audiobook (8/24/2020)
Paperback (6/16/2020)
Description
A different kind of politics for a new kind of society--beyond work, scarcity and capitalism

In the twenty-first century, new technologies should liberate us from work. Automation, rather than undermining an economy built on full employment, is instead the path to a world of liberty, luxury and happiness—for everyone. Technological advance will reduce the value of commodities—food, healthcare and housing—towards zero.

Improvements in renewable energies will make fossil fuels a thing of the past. Asteroids will be mined for essential minerals. Genetic editing and synthetic biology will prolong life, virtually eliminate disease and provide meat without animals. New horizons beckon.

In Fully Automated Luxury Communism, Aaron Bastani conjures a vision of extraordinary hope, showing how we move to energy abundance, feed a world of 9 billion, overcome work, transcend the limits of biology, and establish meaningful freedom for everyone. Rather than a final destination, such a society merely heralds the real beginning of history.
Praise For Fully Automated Luxury Communism…
"A knowingly provocative … utopian manifesto … a refreshing departure from the the usual forecasts of machine-led jobpocalypse."
—Times Literary Supplement

"A stimulating intervention … fascinating on the dazzling possibilities of the present."
—New Humanist

"In 100 years' time many of the ideas in this book will be mainstream, while kindergarten students laugh at our mainstream economic textbooks. Bastani's genius is to see the future with crisp clarity, unafraid of the consequences of being right."
—Paul Mason, author of Postcapitalism

"One of the most important books to come out of the British left in recent years. Incredibly ambitious and wide-ranging, but also well-written and readable, it provides a fascinating glimpse into a future beyond scarcity and beyond capitalism. Not simply a set of predictions about an unknowable future, it is a call to action to those seeking to bring an entirely new world into being."
—Grace Blakeley, New Statesman

"The debate is no longer about tinkering with our current broken social order, but replacing it: this fascinating book is an absolutely critical contribution, and a must-read for all those who aspire to build a new society."
—Owen Johns, author of The Establishment

"At a time when our horizons have shrunk, when instead of striving for a better world we look backward to old comforts, Aaron Bastani calls us to dream and struggle for the type of society finally fit for humanity to live as humans should."
—Bhaskar Sunkara, author of The Socialist Manifesto

"[A] leading figure in the rich ferment of ideas around Corbyn's Labour … [Fully Automated Luxury Communism] offers a snapshot of the new radical narrative that would frame the programme of government of an incoming Prime Minister Corbyn."
—Financial Times

"A startlingly sunny and audacious manifesto that reads the extremity of current political, economic, and environmental crises as a sign of the scale of opportunity for radical change … [Bastani] gamely reclaims the stuff of dystopia for a more buoyant vision … Bastani's arguments rest on the conviction that the major problems that face citizens are political in nature—and thus that their only possible solutions will be political, too."
—Lidija Haas, Harper's

"Bastani writes with pace, economy and infectious enthusiasm … There are more ideas crammed in here than in a whole shelf of standard politics books. And in today's fraught world, the time to read whole shelves of politics books may have passed."
—Andy Beckett, Guardian

"Offers a hopeful vision of a possible future, one that, with its blend of utopian energy and careful argumentation, is worth taking seriously."
—Vector

"Attempts to take the word back to Marx's post-work, post-scarcity future."
—Sarah Jaffe, Bookforum

"It's a manifesto that imagines life in a post-capitalist world where automation has replaced manual labour, and it applies the theories of Marx to show how this could save us from dystopia. Its a pretty audacious book."
—Gruff Rhys, Observer

"A provocative … reckoning with the end of market capitalism, and what might follow … In outlining the benefits of decarbonised economies, worker-owned businesses, people's banks, planet taxes and universal basic services, Bastani is starting to put flesh on the spectre that might one day haunt Europe again."
—Gavin Jacobson, New Statesman

"Jeremy Corbyn's new left … do not wish only to manage capitalism. They want something more. They are something more. And this book is an attempt to explain what that more is."
—Times

"[Bastani's] limpid prose, fuelled by an infectious revolutionary elan, adroitly synthesises … big ideas for lay readers and deftly elucidates the continued relevance of Marx's writings … [Fully Automated Luxury Communism] serves as a vital broadening of our political horizons."
—Morning Star

"A feisty manifesto … proposes a blueprint for a new society; one in which advanced technology will free humanity from the necessity to work."
—New Internationalist

"An entertaining … romp through some of the most profound innovations and developments that could, if managed under the aegis of socialism, transform the way in which we live our lives."
—Quietus

"Rousing."
—Red Pepper

"In a world where we are constantly told we have no choice but to accept the status quo his confidence in the possibility of change is refreshing."
—Socialism Today
Verso, 9781786632623, 288pp.
Publication Date: June 11, 2019
About the Author
Aaron Bastani is co-founder and Senior Editor at Novara Media and has a doctorate from the University of London. His research interests include new media, social movements and political economy. He has written for Vice, the Guardian, the London Review of Books and the New York Times and regularly appears as a commentator on the BBC and Sky News.