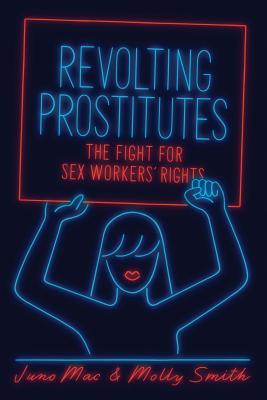 Revolting Prostitutes
The Fight for Sex Workers' Rights
Paperback

* Individual store prices may vary.
Description
How the law harms sex workers—and what they want instead
Do you have to endorse prostitution in order to support sex worker rights? Should clients be criminalized, and can the police deliver justice?
In Revolting Prostitutes, sex workers Juno Mac and Molly Smith bring a fresh perspective to questions that have long been contentious. Speaking from a growing global sex worker rights movement, and situating their argument firmly within wider questions of migration, work, feminism, and resistance to white supremacy, they make it clear that anyone committed to working towards justice and freedom should be in support of the sex worker rights movement.
Praise For Revolting Prostitutes: The Fight for Sex Workers' Rights…
"Revolting Prostitutes is a book I have been waiting for. It is uniquely fit to address the destructive divisions that exist among feminists concerning prostitution. Rejecting the equally unacceptable alternatives of condemnation and glorification of sex work, the authors provide a powerful account of the work itself, the issues it raises, the institutional policy that shape it, all the while demonstrating that sex workers struggles are crucial to any movement for social justice. Well researched, beautifully written, Revolting Prostitutes should be widely read, especially, but not only, by feminists."
—Silvia Federici, author of Caliban and the Witch

"With fine, lucid discourse, Juno Mac and Molly Smith decline to engage in the typical back and forth that drones on between the would-be saviors, the scolds, and the glorifiers to go to the heart of the matter—sex work as labor, with a work force ready to speak their minds and fight for their rights. They avoid easy answers and ask the reader to rethink sex work."
—Susie Bright, author of Big Sex Little Death: A Memoir

"Smith and Mac are sharply honest about the emotional, social and political realities of sex work in all its forms and geographies, eschewing pearl-clutching or cheerleading for a laser-guided honesty and frankness about what can improve the lives and experiences of sex workers around the globe, regardless of social class. Revolting Prostitutes is key to understanding how important the rights of sex workers are, and what is at stake when policy is misguided or clouded in sentimentality and gut-feeling over straight evidence. A must-read for politicians, policy makers, and anyone keen to understand the realities of modern sex work."
—Dawn Foster, author of Lean Out

"Revolting Prostitutes will fuel the fight for sex workers' rights with fresh thinking on feminism, deep analysis of policing and the law, and a critical examination of sex work itself. Smith and Mac have drawn together a radically inclusive map for liberation."
—Melissa Gira Grant, author of Playing the Whore

"Essential reading for feminists engaged in sex work and those studying it. By centering their analysis squarely on the issue of labor rights and upholding harm reduction as a critical benchmark, the authors take on entrenched positions in the feminist struggles over prostitution work and propose a subtle but powerful shift in the terrain of future debate."
—Kathi Weeks, author of The Problem with Work

"An essential read for anyone interested in feminism, activism, and other social justice movements."
—Zoë Naseef, Bust

"Revolting Prostitutes situates questions about sex work in contemporary life in the context of labor rights, white supremacy, critique of police and the global sex workers' rights movement. As sex workers face increasing legal threats and decreased safety in the US, it's a more urgent read than ever."
—Autostraddle

"Revolting Prostitutes succeeds as a well-reasoned, grounded and stubbornly materialist defense of sex workers rights in a literature characterized largely by sex panic, voyeurism, and extrapolation."
—Jennifer McGibbon, Alternate Routes

"An essential addition to the feminist canon and required reading for anyone who cares about equality and human rights."
—Independent

"Tackles complex topics that even sex workers struggle with, criticizing issues like classism in the sex worker community, professional dominatrixes who distance themselves from full-service sex workers out of whorephobia, and why decriminalization isn't a one-size-fits-all solution."
—Ana Valens, The Daily Dot

"Revolting Prostitutes is a thrilling and formidable intervention into contemporary discussions of sex work, and settles the debate in favor of full and immediate global decriminalization. It does so without insisting that there is nothing troubling about sex work: about the psychosexual forces that lead men to buy it, or the economic forces that compel women to sell it … It is a model of how to write about politics—or, indeed, anything."
—Amia Srinivasan, The Chronicle of Higher Education

"[Revolting Prostitutes] advocates for the complete decriminalization of sex work all over the world."
—River H. Kero, Book Riot

"One of the most important books about sex work … Beautifully written and meticulously researched, this book will change what you think you know about sex work."
—Kate Lister, Guardian
Verso, 9781786633606, 288pp.
Publication Date: November 6, 2018
About the Author
Juno Mac is a sex worker and activist with the Sex Worker Advocacy and Resistance Movement (SWARM), a sex worker–led collective with branches in London, Leeds and Glasgow.
Molly Smith is a sex worker and activist with the Sex Worker Advocacy and Resistance Movement (SWARM). She is also involved with SCOT-PEP, a sex worker–led charity based in Edinburgh, which is working to decriminalise sex work in Scotland. She has written articles on sex work policy for Guardian and New Republic.
or
Not Currently Available for Direct Purchase