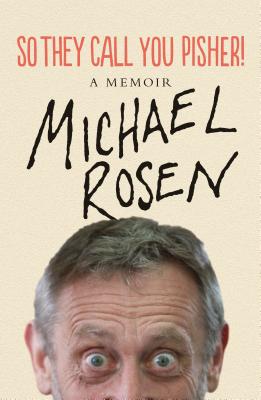 So They Call You Pisher!
A Memoir
Hardcover

* Individual store prices may vary.
Other Editions of This Title:
Paperback (10/2/2018)
Description
The brilliant family memoir of the much-beloved poet and political campaigner
In this hilarious, moving memoir, much-loved children's poet and political campaigner Michael Rosen recalls the first twenty-three years of his life. He was born in the North London suburbs, and his parents, Harold and Connie, both teachers, first met as teenage Communists in the Jewish East End of the 1930s. The family home was filled with stories of relatives in London, the United States and France and of those who had disappeared in Europe.

Different from other children, Rosen and his brother, Brian, grew up dreaming of a socialist revolution. Party meetings were held in the front room. Summers were for communist camping holidays. But it all changed after a trip to East Germany when, in 1957, his parents decided to leave 'the Party'.

From that point, Michael followed his own journey of radical self-discovery: running away to Aldermaston to march against the bomb; writing and performing in experimental political theatre at Oxford; getting arrested during the 1968 movements. The book ends with a letter to his father, and the revelation of a heartbreaking family secret.
Praise For So They Call You Pisher!: A Memoir…
"In his writing, he puts on no airs; his literary background (English degree from Wadham, Oxford) has not held him up—or back. Sometimes his writing is so simple, you wonder at it: how did he resist the temptation to dress it up? He knows—in his work at least—when to stop."
—Kate Kellaway, Observer

"The lovely thing about Rosen's writing is that it is rooted in the reality of his own post-war childhood—you can smell the matzo bray his father makes as a treat when his mother is out, hear the wheels squeak on his go-kart, sense the thrill of him and his 10-year-old friend Mart on holiday climbing the Sugar Loaf mountain and crossing from Wales into England with their trousers down."
—Simon Hattenstone, Guardian

"Throughout his career, Rosen has inspired children and adults to fall in love with reading."
—Independent

"Rosen's trademark style and humour are everywhere in his pared-down prose, evoking the north London suburbs with his communist parents, Harold and Connie, who first met as impoverished teenagers in the Jewish East End of the 1930s. From memories of his Shakespeare-quoting father, to forging his own path towards becoming a professional writer, this memoir is also a powerful love letter to literature."
—Anita Sethi, Observer

"He's too good a story-teller for this book not to be worth your while."
—Spectator

"Humorous and moving … A memorable and worthwhile read from a principled man who celebrates the funny side of life."
—Irish Times

"He has the knack of instantly grabbing your attention … Rosen seems to have the unusual gift of being able to write affectionately and intelligently about his family, without quite tipping over into schmaltz."
—Ian Sansom, New Statesman

"As with almost every experience in this memoir, it seems like a poem waiting to happen."
—Jewish Chronicle

"As you would expect from an excellent storyteller like Rosen, the book is full of humour and optimism but with twinges of sadness."
—Socialist Review

"This hugely engaging memoir excavates the theatre of the mind and memory … His anarchic humour, which is the hallmark of his children's poetry, threads throughout."
—Morning Star

"A key lesson for children and adults alike."
—Hackney Citizen

"An enjoyable read with much humour."
—Peace News
Verso, 9781786633965, 320pp.
Publication Date: October 17, 2017
About the Author
Michael Rosen is the author of over 140 books of poetry, stories and cultural politics. He was the UK's Children's Laureate 2007–9 and is currently Professor of Children's Literature at Goldsmiths, University of London, where he co-devised and co-tutors the MA in Children's Literature. He has won numerous international awards for his work. His most famous books are We're Going on a Bear Hunt (with Helen Oxenbury); Quick, Let's Get Out of Here; and Michael Rosen's Sad Book (both with Quentin Blake). He presents BBC Radio 4's flagship programme about language, Word of Mouth, and writes a monthly provocative open letter to the Secretary of State for Education in the Guardian.