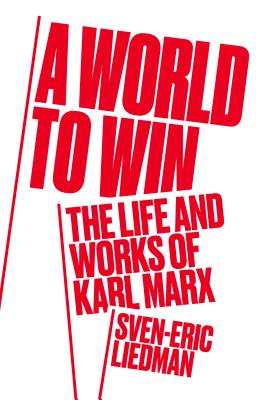 A World to Win
The Life and Works of Karl Marx
Hardcover

* Individual store prices may vary.
Other Editions of This Title:
Paperback (2/5/2019)
Description
Epic new biography of Karl Marx for the 200th anniversary of his birth
In this essential new biography—the first to give equal weight to both the work and life of Karl Marx—Sven-Eric Liedman expertly navigates the imposing, complex personality of his subject through the turbulent passages of global history. A World to Win follows Marx through childhood and student days, a difficult and sometimes tragic family life, his far-sighted journalism, and his enduring friendship and intellectual partnership with Friedrich Engels.
Building on the work of previous biographers, Liedman employs a commanding knowledge of the nineteenth century to create a definitive portrait of Marx and his vast contribution to the way the world understands itself. He shines a light on Marx's influences, explains his political and intellectual interventions, and builds on the legacy of his thought. Liedman shows how Marx's masterpiece, Capital, illuminates the essential logic of a system that drives dizzying wealth, grinding poverty, and awesome technological innovation to this day.
Compulsively readable and meticulously researched, A World to Win demonstrates that, two centuries after Marx's birth, his work remains the bedrock for any true understanding of our political and economic condition.
Praise For A World to Win: The Life and Works of Karl Marx…
"This book makes clear that Marx's ideas, going on two centuries old, still have meaning in the present. Outstanding. [A book] to turn to for reference and deeper insight."
—Kirkus (starred review)

"Neoliberalism is increasingly exposed as a failed experiment and many people are now exploring the tradition of radical politics for solutions to the challenges we now face. This book brings to life the early history of the socialist tradition."
—John McDonnell, MP Shadow Chancellor of the Exchequer


"A World to Win is an illuminating investigation into the multiple personalities of this infinitely fascinating figure. There's a strong case to be made that Marx was neither a philosopher nor a scientist. He discovered his own 'ways of seeing' that defied and continue to defy easy categorization."
—Jason Barker, Los Angeles Review of Books
"A lucid, scholarly guide … Those searching for a truly detailed discussion of Marx should turn here."
—Andrew Stuttaford, Wall Street Journal


"Liedman is convinced that we live in a period of striking similarity to Marx's own, and therefore his analysis of society and history are still appropriate. Unlike many other biographies of Marx, the present volume combines in-depth personality narrative and significant comments on Marx's own works. This analysis not only looks at the social and political context of the early industrial revolution Europe, but also takes into consideration the intellectual environment of the time, German philosophy, and socialist and liberal ideas. Highly recommended."
—Choice
Verso, 9781786635044, 768pp.
Publication Date: May 1, 2018
About the Author
Sven-Eric Liedman, Professor Emeritus of the History of Ideas at the University of Gothenburg, has been reading and writing about Karl Marx for over fifty years. His textbook on political ideologies (originally titled From Plato to Lenin in 1972, rechristened From Plato to the War Against Terrorism in 2014) has been through fourteen editions.
or
Not Currently Available for Direct Purchase