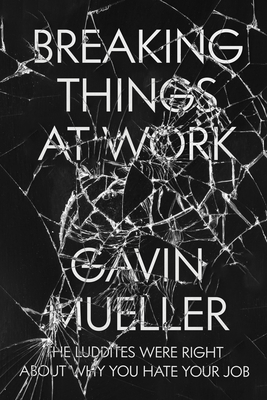 Breaking Things at Work
The Luddites Are Right About Why You Hate Your Job
Paperback

* Individual store prices may vary.
Description
An exhilarating challenge to the way we think about work, technology, progress, and what we want from the future

In the 19th century, English textile workers responded to the introduction of new tecnologies on the factory floor by smashing them to bits. For years 'the Luddites' roamed the English countryside, practicing drills and maneuvers that they would later deploy on unassuming machines. The movement has been derided by scholars as a backwards-looking and ultimately ineffectual effort to stem the march of history; for Gavin Mueller, the movement gets at the heart of of the antagonistic relationship between workers - all workers, including us today - and the so-called progressive gains secured by new technologies. The luddites weren't primitive or even anachronistic - they are still a force, however unconsciously, in the workplaces of the 21st century world.

Breaking Things at Work is an innovative rethinking of labor and machines, leaping from textile mills to algorithms, from existentially threatened knife cutters of rural Germany to surveillance evading truckers driving across the continental United States. Mueller argues that the future stability and empowerment of working class movements will depend on subverting these technologies and preventing their spread wherever possible. The task is high, but the seeds of this resistance are already present in the Neo-Luddite efforts of hackers, pirates, and dark web users who are challenging surveillance and control, often through older systems of communication technology.
Praise For Breaking Things at Work: The Luddites Are Right About Why You Hate Your Job…
"Breaking Things at Work convincingly translates Luddism into a framework for understanding a surprising range of practices. Unearthing inventive moments of resistance from the factories and docks to the free software movement, Mueller's account of the past bears directly on our view of the future: what it is, where it occurs, and to whom it belongs."
—Jenny Odell, author of How to Do Nothing

"Forget the space age utopias of Elon Musk and Jeff Bezos. The propagandistic technophilia of capitalism is a lure. As Gavin Mueller's sober, breakthrough book shows, these cyber-dreams are a cover story. We should not revel in the productive powers of the machine, but wonder at how it is so consistently used as a weapon in class struggle from above. Our quaint notions of technological progress are no match for a machine that programmes the relentless imperatives of capital at our expense. As we face a new, pandemic-induced cybernetic offensive in the workplace, Mueller digs deep into the history of workers' struggles, recovering its traditions, making a persuasive case for Marxist neo-Luddism. Nothing could be more valuable or timely."
—Richard Seymour, author of The Twittering Machine

"A compelling examination of the ancestors of today's accelerationists."
—Erik Baker, Real Life Mag

"Mueller's work is a counter-history of automation, attending to all those who have fought back at every turn, acting out of a desire to maintain as much collective autonomy over what it means to work as possible … Breaking Things at Work draws these legacies into a cumulative strategy for how we might come together to combat the daily indignities and miseries of contemporary work."
—Clinton Williamson, The Baffler
Verso, 9781786636775, 176pp.
Publication Date: February 9, 2021
About the Author
Gavin Mueller teaches New Media and Digital Cultural at University of Amsterdam, and is an editor at Jacobin and Viewpoint Magazine.