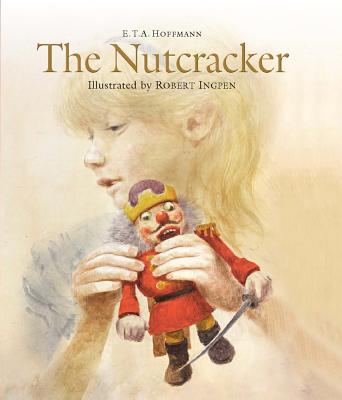 The Nutcracker and the Mouse King (Hardcover)
Palazzo Editions, 9781786750334, 144pp.
Publication Date: August 31, 2016
Other Editions of This Title:
Paperback, Abridged (11/14/2017)
Compact Disc (9/3/2015)
* Individual store prices may vary.
Description
Marie kept gazing at the dear little man, whom she had loved at first sight, and she saw what a kind face he had. His pale-green, slightly protuberant eyes expressed nothing but friendliness and goodwill. And the neat white cotton-wool beard on his chin suited the little man very well, setting off the sweet smile of his bright-red mouth.

The Nutcracker and the Mouse King is well-loved by many as the inspiration for Tchaikovsky's famous ballet, performed as a Christmas spectacle the world over. The ballet was based on a French retelling of the story, and Hoffmann's German original is rarely translated in its entirety. In addition to telling the familiar tale of the gentle young girl and her love for the enchanted Nutcracker, who leads the toy soldiers in a battle against the wicked Mouse King and whisks her away to the Land of Toys, the original text also includes the story of the cursed Princess Pirlipat and the hard nut, which explains the background of how the poor Nutcracker came to be. This sumptuous volume, published to celebrate the bicentenary of the tale's first publication, brings together the complete, unabridged German classic in a new translation by the eminent translator Anthea Bell, with more than 70 breathtaking illustrations by the award-winning artist Robert Ingpen.
About the Author
Ernst Theodor Amadeus Hoffmann (1776 - 1822) was a German author of fantasy and horror, a jurist, composer, music critic, draftsman, and caricaturist. He is the subject and hero of Offenbach's famous opera The Tales of Hoffmann, and was one of the major authors of the Romantic movement. Robert Ingpen is a Hans Christian Andersen Medal award-winning illustrator whose works include illustrated editions of Alice Through the Looking-Glass, Around the World in 80 Days, A Christmas Carol, and Just So Stories.
Praise For The Nutcracker and the Mouse King…
"Lewis Carroll, we could say, created the whole of children's literature with these wonderful stories. Placing a child at the centre of a narrative that was entirely free of instruction, entirely devoted to delight, was a stroke of genius. The Alices are the greatest nonsense ever written, and far greater, in my view, than most sense."—Philip Pullman, author, His Dark Materials trilogy, on Alice Through the Looking-Glass