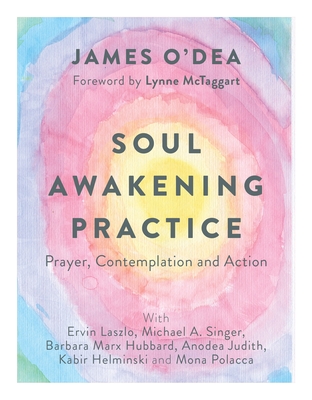 Soul Awakening Practice
Prayer, Contemplation and Action
Hardcover

* Individual store prices may vary.
Description
A mantra for a new consciousness with an introduction by Lynne McTaggart and contributions by Ervin László, Michael Singer, Barbara Marx Hubbard, Anodea Judith, Kabir Helminski and Mona Polacca.

The Soul Awakening Practice is built around a 6-line mantra. A mantra is a sacred utterance. Repetition of a mantra aids in concentration and is believed to have both psychological and sacred powers. This is a book for activists, for ecologists, and for spiritual seekers engaged in the quest for a spiritually coherent and united worldview.

The human race has a moral imperative to transform the way we live and The Soul Awakening Practice offers a way for us to engage spiritually. Integrating ancient wisdom, modern science and psychology this mantra prayer is a means by which to reveal a coherent worldview available to each and every one of us.

Written by James O'Dea, the former president of the Institute of Noetic Sciences and member of the Evolutionary Leaders Group, the book not only includes the prayer itself but a commentary on the power of prayer as well as expanded, contemplative line-by-line reflections and explanations. To provide different viewpoints and perspectives on this new worldview, the book includes commentaries by key luminaries from science, cosmology, evolutionary theory, Yoga, Sufism and indigenous wisdom.

Be receptive and allow the prayer to illuminate your insights. Experience your own unique journey of awakening.
Praise For Soul Awakening Practice: Prayer, Contemplation and Action…
This wise, splendidly written, subtly passionate book, by one of the world's pioneering sacred activists will open your mind, inspire your heart, and focus your whole being on the essential tasks of our time - urgently putting love into action to preserve nature and humanity.
--Andrew Harvey, Author of "The Hope - A Guide to Sacred Activism and Co-Author with Carolyn Baker, "Evolutionary Love Relationships"
 
 
Soul Awakening Practice provides a stirring and uplifting context to weave together prayer, contemplation and action. As such it offers us poetic and spiritual guidance for a time that cries out for this kind of deep integration. --Seane Corn, Yoga Teacher
 
I have often said that prayer is the broom that sweeps out our hearts.  Soul Awakening Practice presents reflections that will assist you to further develop or continue in your prayer practice.  With this prayerful cleaning of our heart, it is possible for us to receive the true gift--peace.  When we are in pieces, that's what we share with the world but when we are in peace, we manifest peace, we exude peace and we spread peace. --H.H. Pujya Swami Chidanand Saraswatiji
 
 
The need for cooperation and partnership as opposed to domination and dominion is becoming more and more evident in these threshold times. Many are calling for peace in our times and James O'Dea makes the case that peace calls for dynamic engagement. It requires the building of trust that allows love to flow so that compassionate connection can interrupt the cycles of wounding. Soul Awakening Practice is a handbook that reveals a path forward as it skillfully guides us to an awakening of the heart to the full expression of peace. I highly recommend this book which offers grounded practices that will be a revolution in your daily life.
--Justine Willis Toms, Co-founder, Creative Producer, Host of New Dimensions Radio and author of Small Pleasures: Finding Grace in a Chaotic World.
 
 
With passions and anxiety high, we are called
to find power from within. Soul Awakening Practice
is not only on time, but a guide to help everyone
re-connect to their Source of power. James O'Dea's 
uncanny ability and clarity is spot on for bringing
us all to a deeper, more powerful way of living.
 
--Sister Jenna, spiritual leader, author, radio and TV personality, renowned speaker and founder of the Meditation Museum in Silver Spring, Maryland and McLean, Virginia
Watkins Publishing, 9781786780522, 176pp.
Publication Date: June 13, 2017
About the Author
James O'Dea, www.jamesodea.com is award-winning author of Cultivating Peace and Creative Stress. He is lead faculty for the Shift Network's acclaimed global Peace Ambassador Training. He has conducted frontline social healing dialogues around the world for many years. He is former president of the Institute of Noetic Sciences, Washington office director of Amnesty International and CEO of the Seva Foundation. He is a member of The Evolutionary Leaders group founded by Deepak Chopra and is on several advisory boards such as The Peace Alliance and Kosmos Journal. James is also a mystic who is passionate about global transformation and has a special interest in Meher Baba's evolutionary vision. He is followed extensively in social media and lectures widely. James grew up in Ireland and England and currently resides in Colorado.
or
Not Currently Available for Direct Purchase