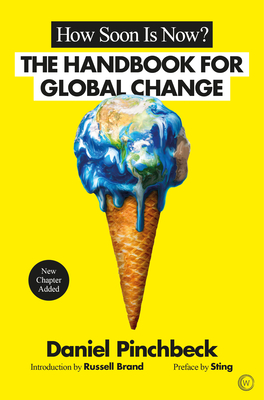 How Soon is Now? (Paperback)
A Handbook for Global Change
Watkins Publishing, 9781786780867, 288pp.
Publication Date: July 17, 2018
Other Editions of This Title:
Hardcover (2/21/2017)
MP3 CD (12/11/2018)
* Individual store prices may vary.
Description
We are on the brink of an ecological and political mega-crisis. Our actions over the next few years may well determine the destiny of our descendants. Part manifesto, part tactical plan of action, How Soon is Now? outlines a vision for a mass social movement that will address this crisis.

"How Soon is Now? will challenge most conventionally held assumptions about the global environment" Moby

The World Needs to Change
We have unleashed a mega-crisis threatening the future of life on Earth. The actions we take over the next decade are critical. They will determine the destiny of our descendants and the fate of our world.

Is It Too Late?
How Soon is Now? presents a compelling manifesto for personal and planetary change. It proposes a new narrative for a unified social movement. Through global cooperation, we can face this collective threat- ecologically, socially, politically, and spiritually. We can launch a new operating system for human society based on regenerative principles.

The Choice Is Ours
Accepting this crisis as our initiation, we can choose to evolve to the next level of consciousness as a species. We can do more than survive: we can thrive.
"A blueprint for the future" Russell Brand

About the Author
Daniel Pinchbeck is the bestselling author of Breaking Open the Head, and 2012: The Return of Quetzalcoatl.  He co-founded the web magazine Reality Sandwich and the online platform Evolver.net.  His essays and articles have appeared in publications including the New York Times Magazine, Esquire, Rolling Stone and ArtForum.  

Praise For How Soon is Now?: A Handbook for Global Change…
'It speaks to something I often say our culture sorely lacks: Rites of passage.' - Neil Strauss

'How Soon is Now? gives us the context we need to understand the chaos and turbulence of our times.' – Sting

'A blueprint for the future' - Russell Brand

'Daniel Pinchbeck's HOW SOON IS NOW? is a powerful exploration of our need for a massive upgrade of collective consciousness if we are to address the inconsistencies and pathologies that afflict the modern world. While we have seen massive progress, we have also seen moral failures... and our unwillingness to question preexisting dogma might cost us dearly.  Daniel's book offers a startling call to action!' - Jason Silva, artist, filmmaker and futurist

'Here we are, humanity, caught in the moment between devolution and conscious evolution by choice, not chance. Daniel Pinchbeck's new book takes us to this exact inflection point and reveals in remarkable clarity and brilliance, We Do Know What To Do, in almost every field from spiritual to social to environmental innovations arising everywhere.'  – Barbara Marx Hubbard, author, Conscious Evolution
 
'Daniel Pinchbeck has emerged as a rational and clear voice of hope for a new post-capitalist future, offering alternatives to hack democracy for a better society.' – Jefferson Hack, CEO and Founder, Dazed & Confused
 
'I recommend this book to anyone who is trying to make sense of climate change within a bigger picture that includes the evolution of civilization and consciousness.' – Charles Eisenstein, author, Sacred Economics
 
'How Soon Is Now offers a spiritually driven approach to global economic and ecological crisis… With dangerous and admirable honesty, Pinchbeck tests his deepest held assumptions and judges his life choices in a crucible of self-doubt. It's at once an initiation for himself, and an invitation for us to ask these same sorts of questions of ourselves as individuals and a society.' – Doug Rushkoff, author, Throwing Rocks at the Google Bus

'Provides deep insight into the essential issues of our time ... could spark the revolution of consciousness that is the revolution not just of thinking, but of acting.' - Ervin Laszlo, Bestselling Author and Philosopher

'Daniel Pinchbeck's life is the hero's journey. Like Homer's Odyssey, How Soon Is Now is a song of redemption for a world torn apart by the monsters of our own creation. We've dreamed a world that is consuming itself into extinction. Pinchbeck offers us a new dream and in doing so takes us on a powerful, magical voyage into balance and sanity.' - John Perkins, New York Times Bestselling Author of Confessions of an Economic Hitman   

'With his new work Daniel Pinchbeck is proposing systemic solutions to the ecological crisis looming over us, requiring a drastic shift in lifestyle and new levels of global cooperation. Whether or not you agree with all of his conclusions, How Soon Is Now? will challenge most conventionally held assumptions about the global environment.' - Moby