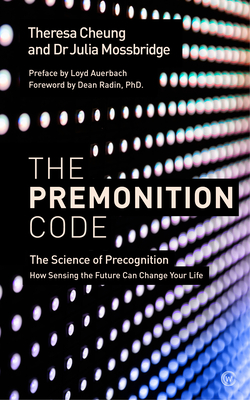 The Premonition Code
The Science of Precognition, How Sensing the Future Can Change Your Life
Paperback

* Individual store prices may vary.
Other Editions of This Title:
Compact Disc (10/16/2018)
MP3 CD (10/16/2018)
Description
An in-depth study into the cutting-edge science of 'sensing' the future, or precognition—from a cognitive neuroscientist and the bestselling author of The Dream Dictionary
 
In this groundbreaking book, bestselling author Theresa Cheung joins forces with cognitive neuroscientist Julia Mossbridge, PhD, Director of the Innovation Lab at The Institute of Noetic Sciences (IONS). Together they reveal revolutionary new research showing that sensing the future is possible; they also provide practical tools and techniques you can use to develop your own powers of precognition.

Precognition is the scientific name for the knowledge or perception of the future, obtained through extrasensory means. Often called 'premonition', precognition is the most frequently reported of all extrasensory perception (ESP) experiences, occurring most often in dreams. It may also occur spontaneously in waking visions, auditory hallucinations, flashing thoughts entering the mind, the sense of "knowing" and physiological changes. Combining science and practice, Theresa and Dr Julia unravel the mystery of precognition. The book will cover: 

• What precognition is and the different types, clearly explaining the cutting-edge science, including what is known and what is still a mystery 

• The most common premonitions that people experience and why, including examples from around the world 

• Experimental tools to help you cultivate precognition experiences to help get useful information for your life

• Case studies included throughout, with supporting scientific evidence offered alongside to provide validation and explanation

• Personal experiences of the authors, detailing how premonition has shaped their lives and interviews with leading scientists and experts in the field
Praise For The Premonition Code: The Science of Precognition, How Sensing the Future Can Change Your Life…
"Dr Julia Mossbridge and co-author Theresa Cheung show us that our everyday notions of time do not reflect the scientific reality of how time can work in our lives. They dare to examine the so-called anomaly of precognition in a clear-headed way, hopeful that as a society we can build teams of "Positive Precogs" who globally move us toward positive events and away from negative ones. This book is a major contribution in our understanding of reality and the dormant potential for the so-called supernormal that exists within all of us. Read it and discover the power of time within your mind."

—Deepak Chopra, M.D., author of The Healing Self

"The Premonition Code addresses an unprecedented shift in scientific understanding, all over a refined assessment of the nature of consciousness. At its core lie peculiar and unexpected aspects of time itself, and of causal relationships and modes of knowing that defy conventional explanation. The book is not only a sophisticated and comprehensive presentation of the science behind this world-changing revolution: It also provides a fascinating and practical toolbox to aid conscious beings in personally exploring these mind-bending concepts and applying them positively in their own lives. Thanks to Theresa and Dr Mossbridge, a future based in our loftiest dreams has never been more accessible!"
 
—Eben Alexander MD, neurosurgeon and author of Living in a Mindful Universe and Proof of Heaven


"It seems that the 'other side' might be in 'another time.' In this book we have a mystic and a hard-core scientist using fascinating and accessible examples to demonstrate the remarkable possibilities of precognition and how to access it in your own life."

—New York Times bestselling author and spiritual medium, James van Praagh


While reading the Premonition Code I felt how my mind set steadily transformed. This easily accessible book on the human capacity to foresee future events presents personal accounts as well as recent scientific insight. What is more, it is about a practical mind technique, probed and tested over the last decades, which might enable us to better sense the future. This book could become the I Ching of our times.

—Marc Wittmann, Institute for Frontier Areas of Psychology and Mental Health, Germany


"Dr. Julia Mossbridge and Theresa Cheung, in Premonition Code, have written an excellent and compelling book that will present the reader with the very latest research in nonlocal consciousness, as well as a way to use these findings to improve their own lives. I recommend it."

—Stephan A. Schwartz, Author, Scientist, and Futurist, The 8 Laws of Change, 2016 winner of the Nautilus book award for social change

"I am excited about The Premonition Code because it exhibits a long overdue blending of the scientific and the spiritual fields in the examination of precognition. Where so many have looked at these disciplines as enemies, Dr. Julia Mossbridge and Theresa Chung realize that they compliment each other beautifully. Attention all truth seekers, whether you're a skeptic or believer, you are in for an amazing journey. Read this important work and unlock The Premonition Code."


—Jim Harold, Author and Host of The Paranormal Podcast, 31 million downloads and counting!
Watkins Publishing, 9781786781611, 256pp.
Publication Date: October 16, 2018
About the Author
Theresa Cheung has a Masters from King's College Cambridge and has spent the last twenty years writing bestselling books and encyclopaedias about the psychic world. Two of her paranormal titles reached The Sunday Times top ten and her international bestseller, The Dream Dictionary, regularly bounces to number 1 on the Amazon dreams bestsellers chart.
 
Julia Mossbridge MA, PhD is a cognitive neuroscientist and director of the Innovation Lab at the Institute of Noetic Sciences (IONS) and visiting scholar in psychology at Northwestern University. She is the author of Transcendent Mind one of the first academic books to examine paranormal experiences, published by the American Psychological Association in 2016. Her research focus at IONS is precognition and the possibility of time travel.
or
Not Currently Available for Direct Purchase