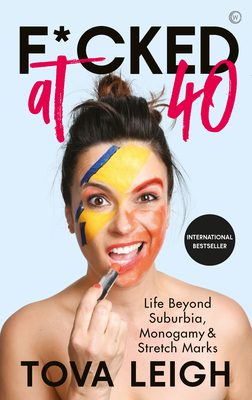 F*cked at 40 (Hardcover)
Life Beyond Suburbia, Monogamy and Stretch Marks
Watkins Publishing, 9781786782694, 224pp.
Publication Date: March 3, 2020
* Individual store prices may vary.
Description
For every woman that has ever felt trapped; a funny, raw and empowering mid-life-crisis.

Creator, mother, lover, and social media phenomenon Tova Leigh explores what the hell you are supposed to do when you find yourself living a life you don't remember signing up for.

"I was bored, angry, tired and sad. I felt all alone yet I had nothing to complain about. I had a good job, a husband who wasn't shagging his assistant, three children who apart from being the occasional assholes were pretty good kids; a house, a dog and everything else we are told as little girls we should aspire to. But inside, I was growing restless. I didn't want to be looked at as just a 'mom'. I wanted to be desired, to make someone's hair stand on end and go crazy for me. I didn't want to live by some label that didn't represent me. I looked at my messy minivan one morning and I wanted to vomit on it all. I panicked, thinking about how I am slowly approaching middle age and menopause and I wondered how many years do I have left of being 'f**ckable' before everything starts going downhill?"

In her first book Tova takes the reader on her journey of rediscovering who she is after motherhood and beyond the norms society forces upon women, whilst encouraging them to break free and just be themselves.

"When you find authenticity it's hard to go back. It's like opening a door to the truth and starting to breathe a new type of air. This discovery is what prompted me to write. It's my way of saying HERE I AM".
About the Author
Tova Leigh began her successful blog 'My Thoughts About Stuff' in 2016 as a way to talk about parenting, body image, and being free of boundaries. As in her blog, in this, her first book, she talks about her life beyond motherhood, and the challenges that women face as they try to uncover who they are in the world. Tova's up-front, humorous, and honest message has earned her a loyal global following.
Praise For F*cked at 40: Life Beyond Suburbia, Monogamy and Stretch Marks…
"Tova Leigh has been there, done that, and lived to tell the healing, hilarious tale."
—Sarah Knight, New York Times bestselling author of The Life-Changing Magic of Not Giving a F*ck

"A funny, honest account of motherhood and ageing that women from all walks of life will relate to."
- The Sun

Funny and irreverent"
— Grazia Book Club

"Tova's book is a refreshing dose of reality, telling it like it really is, while being funny at the same time!"
— Dr Philippa Kaye, GP and author of The M word: Everything you need to know about the menopause

"Tova's book is funny, entertaining and relatable. A must read for any Mum!"
- Danielle Collins, The Face Yoga Expert and author of Danielle Collins' Face Yoga

"The way she talks about her body, her relationship with her body, seizing the day ultimately and just living life. I found it really refreshing."
- Giovanna Fletcher

"Buy it, have a read of it, it's good fun."
- Nadia Sawalha 

"... the best thing is you don't have to be 40 (or f*cked) to enjoy it!"
- Kaye Adams

"You don't have to be a mum to read it, you don't need to be 40 to read it, you just need to read it!"
- Pina Crispo

"Hilarious, funny, raw, intellectual, engaging, witty read, this book is for you"
- Lucy Werner, author of bestseller Hype Yourself

"It's about love, relationships, happiness, motherhood, it's acceptance of who you are and the age you are and age is just a number."
- Sophie McCartney, Tired 'N Tested blog