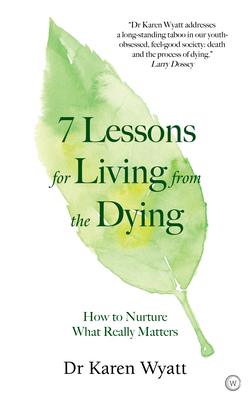 7 Lessons for Living from the Dying
How to Nurture What Really Matters
Paperback

* Individual store prices may vary.
Description
A hospice doctor and caregiver shares the 7 inspirational lessons she has learned from the dying—and gives a daily spiritual practice to help live them.
 
"Clearly and succinctly written, and with deeply profound insights . . . highly recommended." —Ken Wilber, author of The Integral Vision

Karen Wyatt has been privileged to share the final months, weeks, days and moments with many of her patients. This unique experience has given her a profound insight into death and dying. In this book she shares her story and the stories of her patients, providing us with 7 key lessons that the dying can teach us. 

Lesson 1: Suffering: Embrace Your Difficulties
Lesson 2: Love: Let Your Heart Be Broken
Lesson 3: Forgiveness: Hold No Resentments
Lesson 4: Presence: Dwell in the Present Moment
Lesson 5: Purpose: Manifest Your Highest Potential
Lesson 6: Surrender: Let Go of Expectations
Lesson 7: Impermanence: Face Your Fear

Each lesson is a wake-up call inviting to us to live our lives more fully, with more connection and less regret. With each lesson Karen provides a clear analysis of the importance of that lesson and then goes on to share daily practices on how we can live the teachings as a spiritual practice.
Praise For 7 Lessons for Living from the Dying: How to Nurture What Really Matters…
"Clearly and succinctly written, and with deeply profound insights, this is a highly recommended book for those in the land of the living from those no longer with us. Don't wait until then to get the message! Buy it now and benefit from its life-changing insights before it's too late!"
—Ken Wilber, author of The Integral Vision

"In 7 Lessons on Living from Dying, Dr. Karen Wyatt addresses a long-standing taboo in our youth-obsessed, feel-good society: death and the process of dying. Since everyone dies—the statistics are really quite compelling—we ought to pay attention to death's significance and meaning in advance. How? It makes sense to consult the experts. This means listening to the dying, the true experts, which is what Dr. Wyatt has done. This book exemplifies the truth in the old Zen saying, 'If you die before you die, then when you die you will not die.' In other words, prepare. But if you find yourself resisting reading a book on these matters, hey, you're probably someone who needs these seven lessons the most. But so do we all, which is why this splendid book should be widely read."
—Larry Dossey, MD, author of Healing Words and The Power of Premonitions

"For many of us what life is about and what really matters doesn't become reality until we accept our mortality. Karen Wyatt has learned from her life and work about what really matters and her book of lessons is filled with the words and lessons of wisdom a life coach would share."
—Bernie Siegel, MD, author of The Art of Healing and A Book of Miracles

"Dr. Karen Wyatt brings the relevance of everyday life to the meaning of life. Through her hospice work, Dr. Wyatt has shared the moment of crossing over with many, including a very special caring lady—her Mother. In her book Karen meets the reader with a warm and gentle awareness—one that reminds us of the inevitable moment when we breathe our last breath. The meaning and importance of the transition period from life to death is all too often overlooked, and as a result, we spend our lives denying the steady steps of death. As Walt Whitman said, 'Though our hearts are stout and brave, still like distant drums they're beating funeral marches to the grave.' Karen's approach to preparing for one of the most important days of our lives is very real, and it turns out that this preparedness gives rise to miracles that we may have otherwise missed in our everyday life. There is a glorious finitude to our human existence in this time and space, and Karen catches this mystery while inspiring all to live more fully every day! I urge you to read this book."
—Eldon Taylor, PhD, FAPA, New York Times-bestselling author of Choices and Illusions
Watkins Publishing, 9781786783110, 208pp.
Publication Date: April 3, 2020
About the Author
Dr. Karen Wyatt is a family physician who has spent much of her twenty-year career as a hospice medical director caring for dying patients in their homes. Dr. Wyatt has lectured and written extensively on end-of-life issues with an emphasis on the spiritual aspect of illness and dying. Dr. Wyatt recently retired from medical practice to focus her efforts on Creative Healing a project to explore the integration of spirituality and Western medicine.
or
Not Currently Available for Direct Purchase