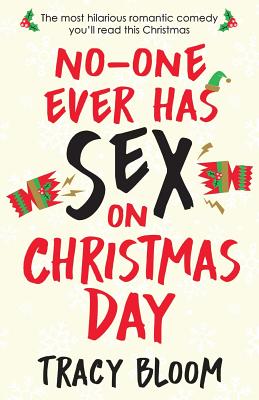 No-One Ever Has Sex on Christmas Day
The Most Hilarious Romantic Comedy You'll Read This Christmas
Paperback

* Individual store prices may vary.
Other Editions of This Title:
Paperback (3/29/2019)
Paperback (7/29/2019)
Description
Don't you always plan the perfect Christmas?

Don't you always think it will be the best one ever?

And doesn't something always come along and screw it up?

Katy's been stuck in the office away from her family so she wants it all: snow (fake or real), the Michael Bubl Christmas album, whatever it takes.

There's only one thing missing as far as her husband Ben is concerned: another baby to complete their family. But Katy isn't so sure she's ready yet...

Ben may be playing the role of Master Elf in the pre-school nativity but he is struggling to master his own family life. With romantically-challenged friends, an ex who refuses to go away and Katy's mum's 64-year-old toy boy thrown into the mix, Christmas looks like it could be going off the rails... Never mind family planning, can Katy and Ben even plan to make it to the end of Christmas Day?

From the no. 1 bestselling author of No-one Ever Has Sex on a Tuesday, this book will make you cry with laughter, and then book your flights abroad for the festive season. Perfect for fans of Marian Keyes, Sophie Kinsella and Milly Johnson.
Praise for Tracy Bloom:
'I utterly adored this book. It's extremely funny and has your eyes bulging out in excitement waiting for the next page... It's emotional in every different way possible and really will have you not wanting to put it down.' The Book Geek Wears Pyjamas, 5 stars

'This has to be one of my favourite and most memorable books I've read this year.' Book Drunk, 5 stars

'Wow ... a real page turner ... will be looking forward to hearing much more from this author in the future ' Fabulous Book Fiend, 5 stars

'In the first few sentences the book had captured my attention and I was glued to the scenes that were unfolding before me... I was bursting out with laughter, and on more than one occasion I was asked by others what was so hilarious But it's not only very funny, it is also very heart-felt and full of emotion too... truly fantastic... I honestly cannot wait for Tracy Bloom to bring out another ' Megan Reading In The Sunshine, 5 stars

'Within the first few pages I was already laughing out loud... I continuously switched opinions on how it would or should end so it definitely kept me on my toes... I look forward to more from this author ' V Family Fun, 5 stars

'Hilarious... addictive to read... I was touched by these characters and their journeys.' Novelicious

'This hilarious book will sweep you up in its sheer brilliance.' Marie Claire

'Loved this book. Tracy Bloom had me in stitches. Again.' Milly Johnson
Bookouture, 9781786812582, 296pp.
Publication Date: October 24, 2017