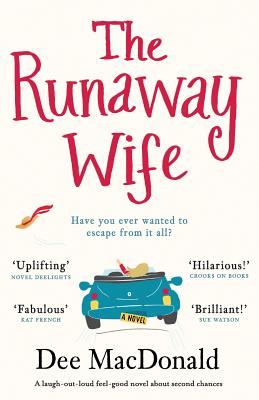 The Runaway Wife
A laugh out loud feel good novel about second chances
Paperback

* Individual store prices may vary.
Description
'Hilarious I loved every page... ' Dawn at Crooks on Books

One evening in early August, while mashing the potatoes for dinner, Connie McColl decides she's had enough...

Connie is tired of solving one family crisis after another - usually involving her unruly grandchildren - while her husband Roger spends all day at his beloved golf course. Surely it must be time for her to shake off her apron and start living again?

So Connie packs a bag, gets in her little green car and drives off...

As Connie journeys from England to Scotland on an unexpected adventure, she finally begins to rediscover herself. And she starts to wonder, will she ever be ready to return home? Or will this summer change her life forever?

The Runaway Wife is an inspiring and joyously uplifting novel about being true to yourself. If you loved The Kicking the Bucket List and The Unlikely Pilgrimage of Harold Fry this book is for you.

What readers are saying about The Runaway Wife

'A warm, funny, brilliant read I love the warmth and humour that jumps from the page. Connie is proof that you're never too old to have an adventure I LOVED the ending ' Sue Watson

'I was laughing out loud... totally did not see the ending coming WOWSERS 5 stars for me ' Goodreads Reviewer, 5 stars

'OMG What a touching and inspirational book this is It made me howl with laughter and it made me sob my heart out... Connie is my absolute hero and I loved her to pieces from the moment I met her A mixture of hilarious and bittersweet moments... I absolutely adored every single step of her journey... one of my favourite books of the year... A memorable, feel-good treat.' My Chestnut Reading Tree, 5 stars

'Made me laugh and cry and laugh again, especially at the end. That was a little bit of genius ... beautifully written and the characters are lovingly drawn to make them come alive. I absolutely loved the ending, that really had me chuckling...' Goodreads Reviewer, 5 stars

'A funny romantic comedy... a book about love, friends, family and self-discovery. There were moments where you would laugh out loud, and then it would have you crying into a tissue... really emotional and tugged at the heart strings A fun, life-affirming read ' Stardust Book Reviews
Bookouture, 9781786813558, 334pp.
Publication Date: April 27, 2018