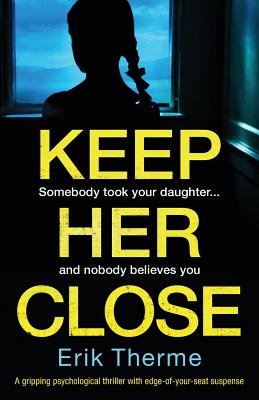 Keep Her Close
A gripping psychological thriller with edge-of-your-seat suspense
Paperback

* Individual store prices may vary.
Description
Someone took your daughter. And nobody believes you...

Then:
Three-year-old Ally was found alone in a parking lot.
She was barefoot and dressed only in a yellow sundress. In the middle of winter.
What kind of person would abandon their daughter?

Now:
Fifteen years later and Ally has a new family.
But her real father has sent her a letter.
And now Ally is missing.

A gripping twist-filled thriller that will have you looking over your shoulder. Perfect for fans of Gone Girl, The Girl on the Train and Teresa Driscoll.

What everyone's saying about Keep Her Close

'A fast-paced thriller that kept me on the edge of my seat. I read it in one day as I did not want to put it down.' Goodreads Reviewer

'A psychological thriller that had my heart pounding with anticipation ... A fast-paced action-packed journey that homes in on parental love and the depths you'd resort to finding your daughter... An intense story... slowly revealing other side-line characters who each have their own secrets that are unearthed as the plot continues. Revealing that nothing was ever really as it seemed from the on-set. Without giving away any spoilers, this is one of those novels that by the time you get to the end, it really makes you think about what you thought you knew about the beginning. It's very clever and certainly ends with a satisfactory bang ' NowFiction, 5 stars

'I really enjoyed this read. It's a fabulous page-turner... A fast-moving tale of relationships and secrets. It's well-written and the style reminded me of early Harlan Coben / Linwood Barclay... A fun, well-told drama and I'm looking forward to reading more from this author.' Goodreads Reviewer

'The tension ramps up as the narrative unfolds in this quick-read, fast-paced tale of a family in crisis... The suspense builds as the story unfolds with some interesting reveals and plot twists that keep the pages turning... Recommended.' Goodreads Reviewer

'The book has a great premise and an interesting start. It then moves into a fast almost frenetic pace where everyone is running somewhere... I love Judy. Her character unfolds with the story and I understand her motivation... A good story.' Goodreads Reviewer

'Delivers a real punch at the end ' Goodreads Reviewer
Bookouture, 9781786816139, 234pp.
Publication Date: December 5, 2018