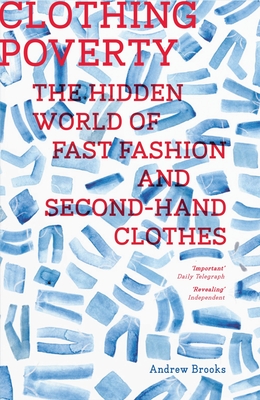 Clothing Poverty
The Hidden World of Fast Fashion and Second-Hand Clothes
Paperback

* Individual store prices may vary.
Description
Have you ever stopped and wondered where your jeans came from? Who made them and where? Ever wondered where they end up after you donate them for recycling?

Following a pair of jeans, Clothing Poverty takes the reader on a vivid around-the-world tour to reveal how clothes are manufactured and retailed, bringing to light how fast fashion and recycling are interconnected. Andrew Brooks shows how recycled clothes are traded across continents, uncovers how retailers and international charities are embroiled in commodity chains which perpetuate poverty, and exposes the hidden trade networks which transect the globe.

In this new and updated edition, Brooks retraces his steps to look at the fashion industry today, and considers how, if at all, the industry has changed in response to mounting consumer pressure for more ethical clothing. Stitching together rich narratives from Mozambican markets, Nigerian smugglers, and Chinese factories to London's vintage clothing scene, TOMS shoes, and Vivienne Westwood's ethical fashion lines, Brooks uncovers the many hidden sides of fashion.
 
Praise For Clothing Poverty: The Hidden World of Fast Fashion and Second-Hand Clothes…
"An interesting and important account."
— Praise for the previous edition

"Every once in a while, a book is published that cuts across disciplines and world regions for a refreshing and engaging read.  Such is the case with UK geographer Brooks's Clothing Poverty. . . . Although written in an accessible way, Brooks frames book content with sophisticated theoretical explanations of colonial history, unbridled neoliberal capitalist expansion, environmental damage involving chemicals and water waste, and the search for 'spatial fixes' of labor and new commodification. . . . Highly recommended."
— Praise for a previous edition

"Many of us, clothes consumers in the West, are aware of the poor working conditions in Asian sweatshops existing side-by-side with multinational companies' growing revenues. In this context, donating one's used clothes seems like an act of consumer redemption—an opportunity to redistribute one's problematic purchases to those less well-off. Clothing Poverty is a cold shower to such wishful thinking. His book is an exposition of the entwined economies of clothes' production in Asia, over-consumption and clothing waste in Europe and the United States, and clothes' afterlife in Africa's second-hand markets. The book is ambitious in its attempt to connect all those geographic locations and commodity phases into one coherent picture."
— Praise for the previous edition
Zed Books, 9781786997371, 296pp.
Publication Date: November 23, 2019
About the Author
Andrew Brooks is a lecturer in development geography at King's College, London.