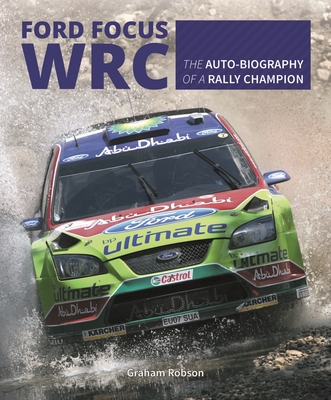 Ford Focus WRC (Hardcover)
The auto-biography of a rally champion
Veloce Publishing, 9781787110205, 192pp.
Publication Date: October 15, 2017
* Individual store prices may vary.
Description
When world rallying introduced a new formula for "World Rally Cars", Ford seized the opportunity. Malcolm Wilson's M-Sport organization was contracted to do the job, completed the design in less than a year, and spent the next 12 years campaigning this turbocharged, four-wheel-drive car all round the world.

Working from state-of-the-art facilities, M-Sport built 97 Focus WRCs, all of which proved to be worthy of World level action when they won 44 World Championship events.

Stellar drivers like Colin McRae, Carlos Sainz, Markko Märtin, Marcus Grönholm and Mikko Hirvonen all added to the mystique of an ultra-professional organization, along with substantial support and sponsorship from the likes of Martini, BP, and the state of Abu Dhabi.

By building its in-house technical expertise, M-Sport not only engineered and developed the entire car on behalf of Ford, but gradually took over development of the 300bhp, 2.0-litre, turbocharged engine, and led the design of the complex four-wheel-drive transmissions provided by Xtrac.

M-Sport's reputation exploded to the point that when regulations changed, the company immediately produced a new-generation Fiesta WRC, and kept the winning days rolling.
About the Author
After a varied career in the automotive industry, Graham Robson has gained a worldwide reputation as a motoring historian, and has more than 160  books to his credit. Born in 1936, and educated at Ermysteds Grammar School in Yorkshire, Graham then went on to study Engineering at Oxford University. He  joined Jaguar Cars as a graduate trainee, becoming involved in design work on the Mk II, E-Type and Mark X. Beginning as a hobby, he became a rally co-driver, eventually joining the Sunbeam 'works' team in 1961, and took part in rallies up to International level (once with Roger Clark), but stopped rallying by 1968. During this time, he joined Standard-Triumph in Coventry, in 1961, as a Development Engineer, mainly on sports car projects. He then ran the re-opened 'works' motorsport department from 1962 to 1965, this being the period of the birth of Spitfire Le Mans cars, TR4, Vitesse, Spitfire and 2000 rally car developments. Graham Robson's writing began with rally reports for magazines which evolved into a job with Autocar from 1965 to 1969. He was recruited back to industry at Rootes to run the Product Proving department, then after a brief period in 1972 as technical director of a safety belt company, became an independent motoring writer. Graham has lived 'by the pen' and 'by the voice', not only writing but commentating, presenting and organising events of all types.
 
or
Not Currently Available for Direct Purchase