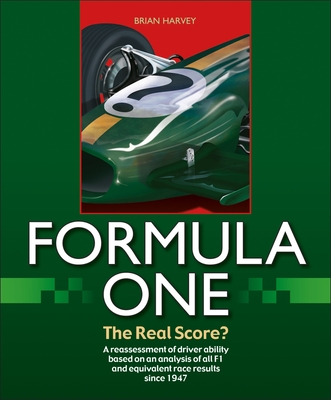 Formula One - The Real Score? (Hardcover)
Veloce Publishing, 9781787110274, 352pp.
Publication Date: October 17, 2017
* Individual store prices may vary.
Description
This book fills the gaps in Formula 1 records. The 70 years of F1 can be neatly divided into two eras at January 1980. At that point the terms "Grand Prix" and "World Championship' became synonymous.

Until then, over half of F1 races were not included in the Championship for the spurious reason that each country should have just a single race. This does a disservice to the achievements of drivers of the Fangio, Moss, Clark and Stewart era and even more-so to the four pre-championship years which began in 1946.

When a commentator says "Rosberg's 16th win equals the F1 wins of Stirling Moss" this is manifestly untrue. If the same drivers, in the same cars, compete at the same tracks, and over a similar distance, then each race deserves to have its place in the records as a "Championship quality" event.

This book includes such races alongside contemporary Championship races and, combined with known figures since 1980, produces what can surely be accepted as "The Real Score" of Formula 1.
About the Author
After education at King Edward VI Grammar School in Stafford, Brian Godfrey Harvey qualified in engineering design and was involved with products as diverse as diesel and jet engines, JCB earthmovers, Lotus sports cars and process plant.
He retired in 2006, having spent the last 30 years as a freelance.
Brian was always attracted by the precision aspect of his work, as evidenced by the accuracy of this book.
A visit to Oulton Park in 1957 cemented an interest in  circuit racing that has never waned. Formula 1 and its history has been avidly recorded by Brian for almost 60 years now!