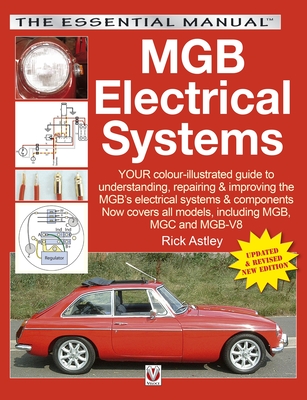 MGB Electrical Systems (Paperback)
Updated & Revised New Edition (Essential)
Veloce Publishing, 9781787110526, 192pp.
Publication Date: September 19, 2017
Other Editions of This Title:
Paperback (1/1/2009)
Paperback (10/1/2006)
* Individual store prices may vary.
Description
This book is essential reading for every MGB enthusiast. The mechanical aspects and the restoration of these vehicles have been written about before, but the so often maligned electrical systems has never been comprehensively covered.

For those new to vehicle electrical systems, MGB Electrical Systems provides a simple primer using mechanical analogies. Each system in the car has its own chapter, and feature simple, uncluttered circuit diagrams where each wire is visible and accurately colored.

More than a how-to-do guide, the book also explains the "why" of each system and procedure, aiding diagnostics when things don't go quite as they should.

About the Author
An electrical engineer, Rick Astley was born and educated in England. Tight budgets and a need to get to work meant he soon developed a thorough working knowledge of the many used British cars he owned; cars he later restored to an acceptable level of reliability.  Even though his professional life took him to Canada and eventually to the USA, where he now lives, through membership of his local MG club he has maintained his interest in the British cars of his youth. Rick now works part-time as an electrical engineering consultant in the Motor City of Detroit.