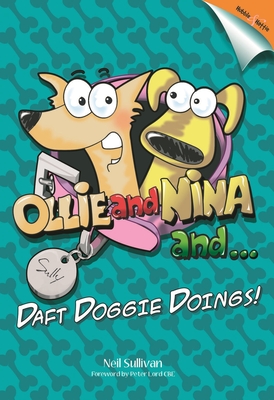 Ollie and Nina and ...
... daft doggy doings!
Hardcover

* Individual store prices may vary.
Description
Ollie and Nina are two silly pups, but unlike other comics, these are two characters that are REAL! Author and pet parent Neil Sullivan swears that everything in this collection of comics really happened. Of course, he admits he may have used some artistic license in the telling.

Together, Ollie and Nina make an awesome comedy duo and anyone with a dog will love by the affectionate, gentle humor found in the silly world of Ollie and Nina.
Hubble & Hattie, 9781787110656, 64pp.
Publication Date: August 8, 2017
About the Author
Neil Sullivan has over 25 years experience in the advertising industry as a copywriter and art director, creating hundreds of funny TV ads. Neil has always had a keen interest in writing and drawing funny kids' books and cartoons. He uses his insightful advertising communication skills to connect with parents and children alike. All his Ollie And Nina And stories are based on insightful truths with a teeny bit of artistic license thrown in for added humorous effect. Neil likes to observe the silly doggie things Ollie and Nina do, and uses that as inspiration to create his hilarious cartoon strips.
or
Not Currently Available for Direct Purchase