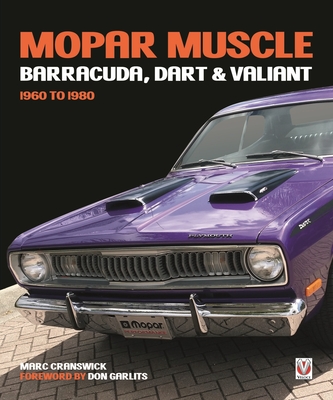 MOPAR Muscle - Barracuda, Dart & Valiant 1960-1980 (Hardcover)
Veloce Publishing, 9781787110717, 176pp.
Publication Date: May 29, 2018
* Individual store prices may vary.
Description
At the dawn of the 1960s, Chrysler Corp introduced a new kind of sophisticated family car called the Valiant. The Plymouth Valiant, and its cousin the Dodge Dart, travelled Detroit's path from economy car to high-performance machine in style. Snazzier still, were the subsequent Plymouth Barracuda and Dodge Challenger relations that took on all comers in the pony and muscle car wars.

By the mid '70s a change of pace saw Dodge Aspen and Plymouth Volaré meet the blend of economy, sports and luxury that buyers wanted. All through the years, and underpinning all models, was Chrysler Corp's engineering excellence. Such excellence was apparent on racetracks and drag strips across the country, so too were the exploits of racing heroes that became Mopar legends. Through hard times and corporate change, Chrysler returned with the modern Hemi V8 motorvated 300s, Chargers and Challengers. The Demon still lives at Highland Park.

Marc Cranswick's knowledge and enthusiasm for the subject shine through in another unique homage to some of America's most iconic cars in MOPAR Muscle - Barracuda, Dart & Valiant 1960-1980.
 
About the Author
Marc Cranswick has had a lifelong interest in cars and all things mechanical, and has written about and drawn the cars that he loves for many years; these include a variety of European, Japanese and American marques. Formal study of the postwar American car market has led to a series of books about the cars and trucks of the Big 3 and independent automakers. He writes enthusiast-directed model history books, and has involvement with many specialist car clubs. His reference book The Cars of American Motors – An Illustrated History, was featured on NBC's business channel CNBC. His other books include Ford Mustang II & Pinto (as seen on channel PBS' MotorWeek); Ford Midsize Muscle - Fairlane, Torino & Ranchero; BMW Classic 5 Series 1972 to 2003; MOPAR Muscle - Barracuda, Dart & Valiant 1960-1980; Mazda Rotary-Engined Cars, and Pontiac Firebird - The Auto-Biography.
Praise For MOPAR Muscle - Barracuda, Dart & Valiant 1960-1980…
From the earliest days, the vehicles built by Chrysler Corporation earned a reputation for advanced design and fine dynamics (think of the 1928 Plymouth's hydraulic brakes and high-compression straight-six engine), and those traits found new relevance in the 1960s, when even Chrysler's economy-minded platforms were engineered to offer better-than-average performance from the start. The innovative Valiant spawned the compact and sporty Barracuda –rapidly eclipsed by the Mustang– but this A-body fastback would evolve to contain ever-more-powerful V-8 engines, and in E-body Barracuda, 'Cuda, and Challenger forms, would peak with the legendary 426 Hemi. The Dart, which graduated from "senior compact" to midsize B-body, would spawn the sporting 340-powered Swinger and Demon, and even the F-body Aspen and Volaré of the 1970s had era-appropriate performance-themed variants.

All these vehicles and more are covered in Marc Cranswick's Mopar Muscle: Barracuda, Dart & Valiant 1960 to 1980. This new 176-page hardcover takes a refreshingly broad view of Chrysler's fast fleet, covering everything from the economical Slant Six Valiant up through the 21st century Hemi V-8-powered cars. In the appendix, the author makes special note of hot variants like Mr Norm's Dart GSS, the drag racing Dodge and Plymouth "Mopar Missiles," and even Chrysler-powered exotics like the Swiss-built Monteverdi and France's Facel Vega. Readers will enjoy Cranswick's detail- and specifications-packed text, his inclusion of notable characters, and this book's wealth of period and modern illustrations. It's a great historical overview worthy of your shelf.
- Mark McCourt, Hemmings Muscle Machines
or
Not Currently Available for Direct Purchase