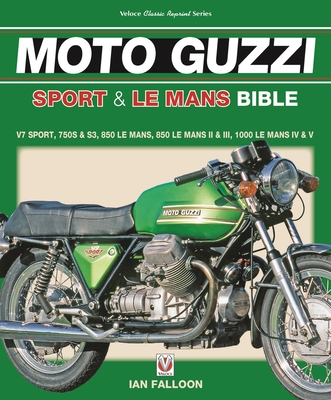 The Moto Guzzi Sport & Le Mans Bible (Paperback)
V7 Sport, 750S & S3, 850 LeMans, 850 LeMans II & III, 1000 LeMans IV & V
Veloce Publishing, 9781787110953, 160pp.
Publication Date: April 14, 2017
Other Editions of This Title:
Paperback (6/30/2007)
* Individual store prices may vary.
Description
Available again after a long absence!

The Moto Guzzi Sport & Le Mans Bible celebrates the iconic Moto Guzzi V7 Sport and Le Mans sporting motorcycles of the 1970s and 1980s, telling the story of these classic bikes, among the first Superbikes to combine Italian style, handling and performance.

After struggling to survive during the 1960s, Lino Tonti was given the opportunity to create the V7 Sport Telaio Rosso, in 1971; this was so successful that Moto Guzzi again began to concentrate on building sporting motorcycles. When Alessandro de Tomaso acquired the company, the future for Moto Guzzi twins looked bleak – until the 850 Le Mans was released in 1975. Like the V7 Sport, the Le Mans was a class leading sporting motorcycle and continued into production throughout the 1980s. After the Le Mans II of 1978, Le Mans III of 1980, the Le Mans IV of 1984, and the Le Mans V of 1988, although no longer a cutting-edge sports bike, the final Le Mans successfully managed to combine traditional attributes with modern conveniences. Covering the period 1971-1993 and all models (V7 Sport, 750S, 750S3, 850 Le Mans, 850 Le Mans II, 850 Le Mans III, 1000 Le Mans IV, 1000 Le Mans V) and with description of model development year by year, full production data and 160 photos, this is a highly informative book and an essential Bible for enthusiasts.

Author and renowned motorcycle expert, Ian Falloon, has a wealth of experience, numerous books to his name, and a small collection of sporting motorcycles – including a 1973 Moto Guzzi V7 Sport. His other books include The Moto Guzzi Story, The BMW Story and The Ducati 750 Bible.
About the Author
Ian Falloon was born in New Zealand and studied engineering and music at Victoria University, Wellington. After a motorcycle accident brought an end to his career as a symphony orchestra oboist, he began writing articles about motorcycles for magazines including Classic Bike, Cycle World, Motorcyclist, Two Wheels, Motorcycle Sport, and Australian Motorcycle News. His first book, The Ducati Story, has run to several editions and has been published in three languages. The success of The Ducati Story led to a series of Ducati books and histories of Honda, Kawasaki, BMW, and Moto Guzzi motorcycles including Motorbooks titles The Complete Book of Ducati, The Complete Book of Moto Guzzi, The Complete Book of Triumph Motorcycles, and The Art of Ducati. With an interest and passion spanning decades, Ian now concentrates on collecting and restoring older Italian motorcycles, particularly Ducati, MV Agusta, Laverda, and Moto Guzzi. He lives in Melbourne, Australia, and is ably supported in his projects by his family.
or
Not Currently Available for Direct Purchase