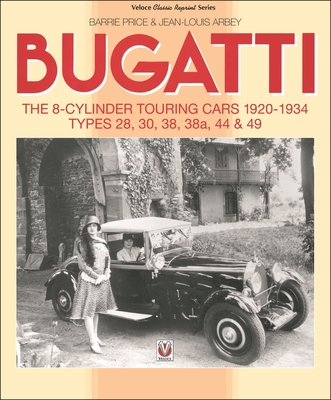 Bugatti - The 8-cylinder Touring Cars 1920-34 (Paperback)
The 8-Cylinder Touring Cars 1920-1934 - Types 28, 30, 38, 38a, 44 & 49
Veloce Publishing, 9781787110984, 160pp.
Publication Date: September 19, 2017
* Individual store prices may vary.
Description
Bugatti - The 8-cylinder Touring Cars 1920-34 is a detailed study of the medium sized touring cars in the extensive range built by Bugatti during the fifteen years following World War I. 

Aspects of design and development are considered together with pictures of components and chassis commencing with the Type 28 and culminating with the Type 49. These cars represented the bulk of production and typify the Bugatti style and design, which was the basis of the company's unique standing in the field of automobile engineering.

Over 150 different cars are depicted via 200 principally contemporary photographs, many of which have not been published before. The works of many different coachbuilders, throughout Europe, built upon these chassis are illustrated together with tables showing their market position compared with other makes and models, which were competitors.

A study of the performance of these cars in competition is included together with a survey of the fall and rise in values over eight decades. 

The book represents an important addition to the series already produced by Veloce covering models Type 40, Types 46/50 and Types 57/57S. The royalties pass to the Bugatti Trust, a foundation dedicated to the study of the works of Ettore Bugatti and the furtherance of aesthetics in engineering design.
About the Author
Barrie Price has spent a lifetime in the motor industry. he is proprietor of Lea-Francis Cars Ltd and President of the Lea-Francis Owners Club; co-founder and former Chairman of the Rolls-Royce and Bentley Specialist's Association; former Chairman of the Bugatti Owners Club, and the co-founder and former Chairman of the Bugatti Trust. Barrie has owned or driven practically every type of Bugatti, and has lived in Warwickshire all of his life. Barrie's written work includes books on Bugatti, the history of Lea-Francis, and Rolls-Royce.
or
Not Currently Available for Direct Purchase