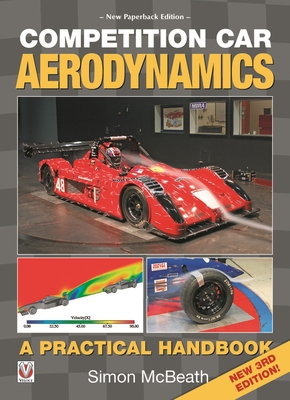 Competition Car Aerodynamics, 3rd Edition (Paperback)
Veloce Publishing, 9781787111028, 320pp.
Publication Date: March 17, 2017
* Individual store prices may vary.
Description
The field of aerodynamics has had an increasingly significant effect on performance enhancement over the past 50 years. Competition Car Aerodynamics 3rd Edition continues the practical, hands-on approach of its popular predecessors to cover all aspects of motorsport aerodynamics, with more CFD and wind tunnel project material and case studies.

Author Simon McBeath tackles aerodynamic theory in a comprehensive, yet comprehensible, way with his unprecedented access to state of the art computational fluid dynamics (CFD) techniques. McBeath also explores aerodynamics with the MIRA full-scale wind tunnel in the UK.

Photographs, graphs, CFD-generated images, and wind tunnel data--much of which has appeared in the successful Aerobytes series in Racecar Engineering--are used to explain with unrivaled clarity how aerodynamic performance benefits are obtained in practice.

With case studies from Formula 1, sports prototypes, Formula 3, GT and saloon cars, club single seaters, and karts, this book will appeal to anyone, whether a designer, competitor, student, or armchair enthusiast, wishing to gain an understanding of aerodynamics, and how it can benefit the performance of all types of competition cars.
About the Author
Simon McBeath is a life-long motorsport enthusiast and has been a competitor for over 30 years. Press officer for Gurston Down Speed Hillclimb, where he is also a Hillclimb School instructor, Simon also regularly contributes as a freelance writer to Racecar Engineering and other magazines.
Aerodynamics articles have always been a speciality of Racecar Engineering, with its monthly column, 'Aerobytes,' launched in 2003, carrying out wind tunnel and CFD studies on a wide range of competition cars.
Simon also provides an aerodynamics advisory service, SM AeRo Techniques.