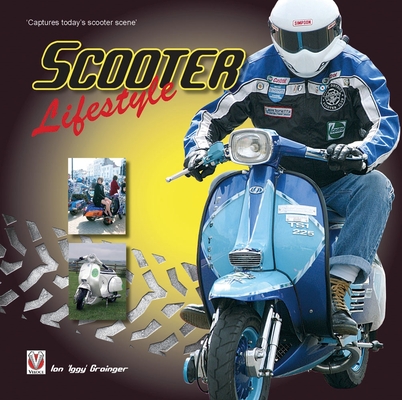 Scooter Lifestyle (Paperback)
Veloce Publishing, 9781787111196, 128pp.
Publication Date: October 17, 2017
Other Editions of This Title:
Paperback (6/15/2008)
* Individual store prices may vary.
Description
There has been plenty said and written about scooters over the years, but until now there has been no definitive look at the culture surrounding the riders' chosen way of life. Many authors have written about mods and the infamous and often over-hyped beach battles of the 1960s, but hardly any have tried to capture the atmosphere of the modern scene in print.
The original mods are still responsible for fuelling the imagination of past, present and future generations, and for leaving a rich scooter heritage behind them. Although the mod way of life was the spark which lit the fuse for many of them, the majority of scooter riders have evolved into lifestyle scooterists.
As the author says "We may not dress in a particular style, our scooters may not be adorned with lights and mirrors, but we still burn with the same passion as our scooter riding ancestors. It's over sixty years since the first Italian scooters rolled off the production lines, but there is still a buzzing and vibrant lifestyle surrounding them. The small capacity machines have overtaken the lives of thousands of us, often to the detriment of everything else we hold dear. Careers, relationships and families have suffered for this overwhelming and expensive addiction. An addiction to which there is no cure. We live and breathe the sickly sweet smell of synthetic two-stroke oil and worship at the altar of our chosen gods, Lambretta and Vespa (or occasionally Gilera and Italjet). Our hands are permanently ingrained with the oily 'tattoos' of a thousand engine rebuilds, and our major organs have suffered the long term effects of our hedonistic lifestyle."
Including interviews with well known scootering personalities, over 150 colour photographs of award-winning custom scooters, best-selling scooter models, and information on rallies and events, Scooter Lifestyle is a must-have for anyone interested in these fun machines.
About the Author
Ian Grainger has lived the scooter way of life since he discovered it at the tender age of 13. He has ridden ill powered 'shopping bikes' across the length of the British Isles, into Europe and further afield. He's attended, organized, DJ'd and worked on scooter rallies and events for the past 20 years. Ian, or 'Iggy' as he is usually known, writes for all the major scooter magazines, including Scootering, TAG and Scooterist Scene. He also writes road tests and features for various regional newspapers.
or
Not Currently Available for Direct Purchase