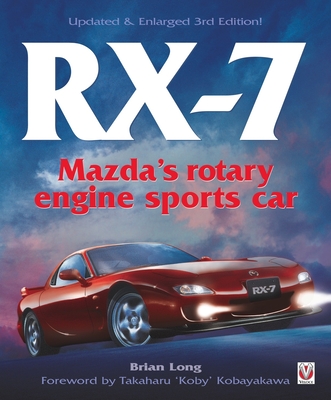 RX-7 Mazda's Rotary Engine Sports Car (Paperback)
Third Edition
Veloce Publishing, 9781787111332, 216pp.
Publication Date: March 17, 2017
* Individual store prices may vary.
Description
Mazda launched its first rotary-engine car--the Cosmo--in 1966, and was the only car manufacturer to solve the problems associated with Wankel's radical engine design and allow the unit's potential to be fully enjoyed. 

The RX-7 of 1978 provided effortless and uncannily smooth performance, attributes that endeared the model to enthusiasts through three generations of production.

Each reincarnation the RX-7 became more of a Grand Tourer, and less of a sports car (a mantle handed on to the MX-5/Miata). Global sales reduced as the car moved upmarket until, in the new millennium, the model was only sold in its native Japan.

Lavishly illustrated with high quality color photographs, RX-7 Mazda's Rotary Engine Sports Car provides an in-depth insight into this amazing production automobile.
About the Author
Born in Coventry, the heart of the British motor industry, Brian Long comes from a family with a proud heritage in the automotive and aviation fields. He trained as a mechanical engineer, and worked for a time at his father's garage. Brian became heavily involved in the classic car scene at 19, and says he turned to writing by accident. He has a long association with several major car manufacturers, is a member of the Society of Automotive Historians, and a member of the Guild of Motoring Writers. He now writes full-time and, since 1990, when his first book was released, he has had more than 80 titles published. Brian currently lives with his family in Chiba, in Japan, where they enjoy life with their Dobermann and Thoroughbred racehorse.