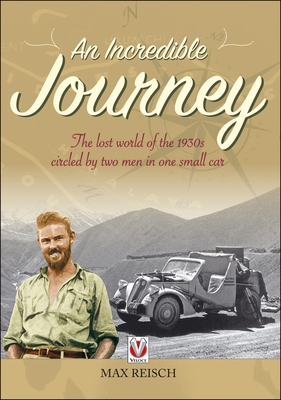 An Incredible Journey (Paperback)
The lost world of the 1930s circled by two men in one small car
Veloce Publishing, 9781787111653, 288pp.
Publication Date: November 14, 2017
* Individual store prices may vary.
Description
In May 1935, twenty-two-year-old Max Reisch and nineteen-year-old Helmuth Hahmann set out in a small motor car to find a land route from India to China. Their journey across Asia took them from Haifa to Tokyo.

In this lively account, the author regales us with one story after another, struck with wonder or struggling against disaster in countries which deeply concern us today:  Iraq with its oilfields, ancient Iran in the throes of modernization, proud Afghanistan, and British India with its stunning variety of civilization.

Before the building of the Burma Road, driving from India to southern China meant sinking over the axles in mud on forest tracks and crossing torrents on rickety ferryboats. It also meant encounters with strange and fascinating peoples and places.

Originally written by Max Reisch in German, this brand new English translation of  An Incredible Journey by Alison Falls captures all the excitement of the journey, and features fascinating historical photos of the journey from the Reisch archives.
 
About the Author
Maximilian Felix Gottfried Reisch (1912-1985) made his first pioneering long-distance journey when he was still a 20-year-old student in Vienna in 1933. Together with fellow-student Herbert Tichy on pillion, he rode a 250cc Puch light motorcycle from Vienna to Bombay, crossing Iraq, Iran and Baluchistan (as documented in his book India - The Shimmering Dream). In another break from his studies in 1935, Reisch undertook a motorcar expedition into Asia which became the round-the-world trip documented in this book. In WWII he served as a vehicle maintenance officer with Rommel in North Africa (which he later wrote about in Out of the Rat Trap). After the war, Reisch worked in the family wholesale grocery business, but by the 195's he was again pushing back the boundaries of motor travel, using vehicles off the production line, which he converted to his own specifications. Many of his journeys were to the Middle East and the desert regions, which so attracted him. Keen to pass on the excitement of travel to the younger generation, he wrote up his adventures in a racy personal style which in no way obscures the carefully recorded details of the world he knew.
 
The book's translator, Alison Falls, grew up in rural Herefordshire where her father was a general practitioner. A keen motorcyclist, he introduced each of his three children to motorcycles as early as possible, thus encouraging a love of independent travel. Alison studied modern languages at Newnham College, Cambridge and subsequently taught French and German. When her brother came across the story of Max Reisch and the journey by light motorcycle to India in 1933, she was able to translate it for him and in the process developed an enthusiasm for all Reisch's books, including this four-wheel adventure.

 
Peter Reisch is the son of author Max Reisch and manages the photographic, vehicle and antiquities collection of the  Reisch-Orient-Archive.