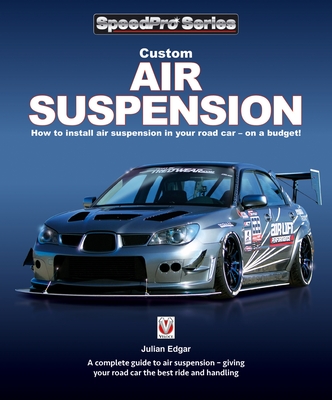 Custom Air Suspension (Paperback)
How to install air suspension in your road car - on a budget! (SpeedPro Series)
Veloce Publishing, 9781787111790, 64pp.
Publication Date: November 14, 2017
* Individual store prices may vary.
Description
Custom Air Suspension is a step-by-step guide to DIY air suspension for your road car. Manufacturers like Mercedes, Tesla, Audi and Cadillac choose air suspension because they can achieve the highest quality in ride and handling, but until now, there hasn't been a book that shows you how to get the best from aftermarket air suspension for your road car.

This book covers both theory and practice - from the technical advantages of air suspension through to detailed coverage of the development, installation and tuning of a custom air suspension system. It looks at wiring and plumbing, covers a brilliant new low-cost electronic air suspension controller, and even shows how to source low-cost components from cars originally sold with air suspension. Want to buy an air suspension kit off the shelf? That's covered as well, with the six key questions to ask before buying.

Whether you're after the best ride and handling, or simply like being able to raise or lower your car at the turn of a knob, this book will show you how to do it.
 
About the Author
Julian Edgar has worked as a teacher, writer, editor and photographer. He edited a national Australian automotive print magazine before working at an on-line car magazine for 18 years. He has contributed articles to automotive publications in the UK, the US and Australia; has written for electronics publications for more than 25 years, and currently contributes to a leading UK hobbyist electronics magazine. Julian is a hands-on modifier who performs all work on his cars himself in his home workshop. He has fitted and tuned programmable engine management, developed electronic automotive kits, and has undertaken cutting-edge electronic modifications, including hybrid cars.