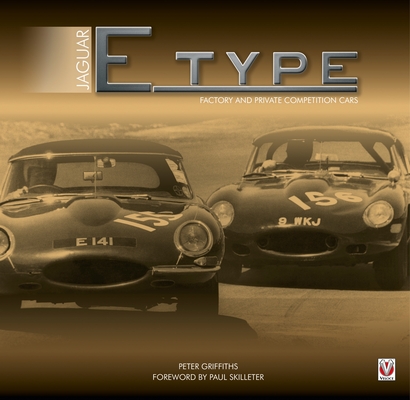 Jaguar E-type Factory and Private Competition Cars
Hardcover

* Individual store prices may vary.
Description
The racing E-type Jaguar emerged from the ambition of both the racing fraternity and Jaguar enthusiasts who wanted to take this iconic British sports car onto the track to see what it would do. With official (and sometimes unofficial) help from the factory, the E-type was continually developed and modified from almost the first week that the first production car left the factory. Recognized the world over, this beautiful aerodynamic car remains as popular today as it was in the 1960s.

Jaguar E-type in Competition features period photographs and stories from the E-type's early racing days, describes how the cars evolved, and gives details of the lightweights, semi-lightweights and factory specials, the Le Mans cars, the Modsports era, and the replica lightweight racing phenomena. The detailed appendices include lists of cars and drivers, book and magazine references. As the only book in its field to cover every aspect of the E-type's competitive history from 1961 until the present day, the author redresses the balance to detail the 95% of cars usually overlooked. The reader will find hundreds of previously unseen photographs and new information, providing an invaluable source of material for anyone interested in this incredible sports car.
 
 
 
Veloce Publishing, 9781787111868, 224pp.
Publication Date: August 21, 2018
About the Author
Peter Griffiths is a retired chartered accountant with a lifelong passion for Jaguar motorcars - especially the E-type. He had his first Jaguar at the age of 18 and has owned nearly every model since, including several racing E-types. He was the treasurer/director of the Jaguar Drivers Club in the 1980s, as well as acting on the events and social committee, and E-type register. He served as a race official at many Jaguar Club race meetings, and has written several articles for The Jaguar Enthusiast Magazine, making him well-positioned to know first-hand the cars he has written about in this book.
 
 
 
or
Not Currently Available for Direct Purchase