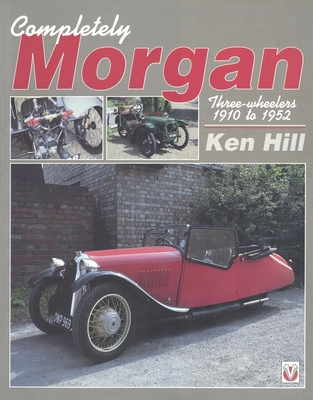 Completely Morgan (Paperback)
Three-Wheelers 1910 to 1952 (Classic Reprint)
Veloce Publishing, 9781787112605, 224pp.
Publication Date: October 15, 2019
Other Editions of This Title:
Paperback (10/15/2019)
Paperback (10/15/2019)
* Individual store prices may vary.
Description
For owners and would-be owners of three-wheeled Morgans, Ken Hill has created an invaluable 'Bible' which is absolutely packed with genuinely useful information. Ken sets the stage by detailing the history of the Morgan motor company, describes the marque's motorsport record and then, with great thoroughness, chronicles the evolution of all three-wheeler models since 1910.

Next comes practical advice on maintenance and repair – advice based on expert information produced when the three-wheelers were still in production. Part of the 'Morgan experience' is the extraordinary social scene that embraces the marque on a worldwide basis, so Ken devotes a whole chapter to Morgan clubs and their activities.

The last part of the book is a series of appendices comprised of original specification, production changes, wiring diagrams, technical data sheets, details of specialists, distributors and manufacturers, details of Morgan miniature models and a record of factory sales literature. Altogether, this work is a unique source book of essential information for all Morgan three-wheeler owners and enthusiasts.

The two other books in this series: Completely Morgan - Four-wheelers 1936-1968, and Completely Morgan – Four-wheelers 1968-1995, are also being reissued as part of Veloce's Classic Reprint series.
About the Author
Ken Hill's love of Morgans began when he married his wife, Janet. Her family were all Morgan enthusiasts, and the Hills were given their first Morgan by Janet's uncle – their now world-famous Morgan 4-4 Le Mans. In this car Ken and Janet competed in many European rallies, driving tests and concours events. He and Janet both became internationally accredited concours judges. In his time, Ken was a Post Office engineer, was in the RAF, and did long service as a dog handler with the Metropolitan Police, until a back injury forced him into early retirement. He then took up writing, and became a member of The Guild of Motoring Writers, having written several other titles about Morgans. See the others in the Reprint Classic series, all published by Veloce.