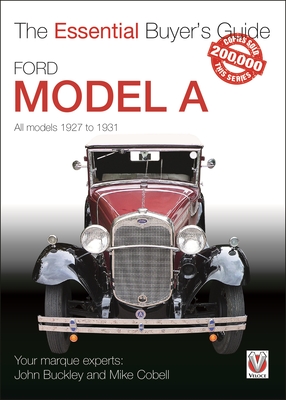 Ford Model A - All Models 1927 to 1931 (Paperback)
All Models 1927 to 1931 (Essential Buyer's Guide)
Veloce Publishing, 9781787112704, 64pp.
Publication Date: December 18, 2018
* Individual store prices may vary.
Description
This comprehensive buyer's guide to the Ford Model A covers all the variants, and what it's like to drive and maintain a Model A. Written by two acknowledged Ford Model A experts and enthusiasts, Ford Model A - All Models 1927 to 1931 helps you to decide what you really want, and see exactly what to look for when viewing and comparing these classic cars. You will find expert advice on what to look for, potential pitfalls, and a useful points-scoring evaluation system. This book also provides useful information about buying at auction, paperwork and the Ford Model A community. Don't buy a Ford Model A until you've read this book!
About the Author
John Buckley has been fettling old cars since  he picked up his first screwdriver  when just two years old.
Having owned at various times  several different makes of classic and vintage cars, he settled into Model A ownership in the 1980s, and has been  driving,restoring and touring Ford Model As ever since. Over the years he has driven his own Model A extensively throughout Europe – even as far as Morocco,Turkey and North Cape. This has added to his experience in (and under) Model As, highlighting the Model As weaknesses and strengths. Further adventures have been driving round Australia in a 1928 Model A. John has worked extensively on all types of Model A and he brings a wealth of common sense to the ins and outs of Model A purchase and ownership 

MIke Cobell is a world renowned guru in in the Ford Model A fraternity. For more years than he cares to remember he been restoring and maintaining Model As. In more recent years, with his son Donald, he has also has been preparing and tuning Ford As for competition. At one time he turned his hobby into his business, and his firm rapidly became the major UK supplier for Model A parts where, just a phone call away, he could provide owners with the necessary advice, expertise and components. Not only has Mike an unsurpassed knowledge of all the types of Ford Model As that have been produced, but he can also pinpoint the slight differences and inconsistencies that one might encounter when viewing or driving a Ford Model A.