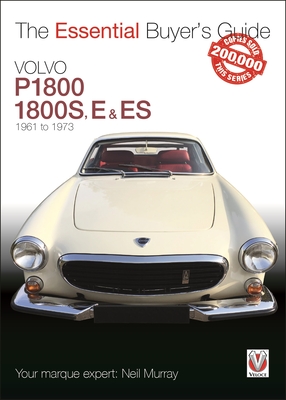 Volvo P1800/1800S, E & ES 1961 to 1973 (Essential Buyer's Guide) (Paperback)
Veloce Publishing, 9781787112773, 64pp.
Publication Date: November 20, 2018
* Individual store prices may vary.
Description
Whether already a Volvo 1800 owner, a prospective owner or simply an admirer, you'll find many useful nuggets of information here. Especially important if you are contemplating the purchase of one of the best looking classic sports cars ever produced, this handy pocket-sized book will guide you through how to select the right car, and provide essential advice on finding, buying and evaluating a Volvo 1800. Covering all versions of the 1800 from carburettor-equipped Coupés to electronically fuel-injected Shooting Brakes (Estates), you'll find the correct original specifications, and advice on how to spot potential body and mechanical problems.
About the Author

Perhaps not the typical Volvo 1800 owner, Neil's hankering for the model derived from a life-long exposure to Volvo cars in general – not from "The Saint" TV show, as some might suppose!
Neil's father was in the Volvo Owners Club, and Neil accompanied him to many rallies, where the 1800 gradually became the focus of his attention. He has owned several 1970s-era Volvos since the early 1980s; in fact, his first Volvo, a 1973 144S, was his first car, bought before he could even drive.
Neil acquired his first 1800, a 1970 1800E, in 1988. He has owned and worked on them ever since, and now shares his first-hand experience and expertise in this book.