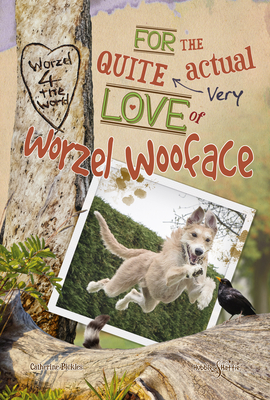 For the Quite Very Actual Love of Worzel Wooface
Paperback

* Individual store prices may vary.
Description
Worzel is still an enormous Lurcher with 'issues,' but his issues are now predictable. Now in his fourth year with his forever family, life is changing. As the children grow up and begin to spread their wings, Worzel's world should be more peaceful. But as life rolls on, a changing of the guard brings new challenges; challenges no-one seems ready to embrace, least of all the cats.

An over-enthusiastic encounter with a fish pond, a blackbird with a death wish, and a new arrival all conspire to ensure that whilst Worzel might be ready for an easy life, his family has other plans.

Mum, long-suffering Dad, five cats and two grown-up children all feature in Worzel's fourth diary, bringing together poems, letters and advice that Worzel's beginning to wonder if it's even worth offering any more.

The eagerly-awaited fourth installment from Worzel, the literary Lurcher is funny, touching, honest, and very real.
Hubble & Hattie, 9781787112919, 160pp.
Publication Date: December 4, 2018
About the Author
Catherine Pickles is an author, journalist and blogger who lives in Suffolk with her husband Mike. She has two grown up children who have nearly left home! Catherine has fostered numerous sighthounds for Hounds First Sighthound rescue. Her hobbies include sailing, walking, gardening and amateur dramatics, most of which she likes to do with Worzel (apart from gardening, but she doesn't have much choice about it, and the amateur dramatics, which he would hate).
or
Not Currently Available for Direct Purchase