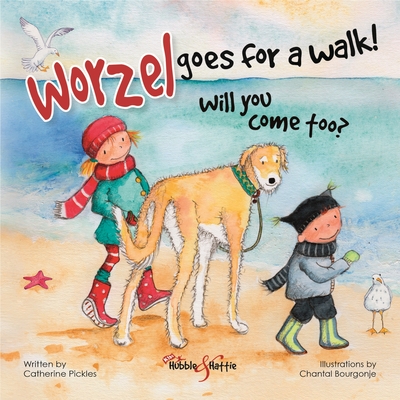 Worzel Goes for a Walk! Will You Come, Too? (Hardcover)
Hubble & Hattie Kids, 9781787112926, 32pp.
Publication Date: October 16, 2018
* Individual store prices may vary.
Description
This beautifully illustrated book for children tells the story of a child and a dog going for a walk, told from the dog's point of view in an easy-reading rhythmical style. As explained by Worzel, an enormous Lurcher with 'issues,' new experiences can be very scary for him, although he really, really does want to go on exciting walks. The original and engaging illustrations will delight children and adults, as well as educate, showing them the secret language of dogs, and will help children learn how to walk dogs in a safe and responsible way. The information presented in this book is endorsed by dog trainers, parents and teachers alike, and would be an essential addition to every classroom, library and children's bookshelf.
About the Author
Catherine Pickles is an author, journalist and blogger who lives in Suffolk with her husband Mike. She has two grown up children who have nearly left home! Catherine has fostered numerous sighthounds for Hounds First Sighthound rescue. Her hobbies include sailing, walking, gardening and amateur dramatics, most of which she likes to do with Worzel (apart from gardening, but she doesn't have much choice about it, and the amateur dramatics, which he would hate).
Chantal Bourgonje  is a Dutch illustrator and writer of picture books, working from the Wiltshire countryside, where she lives with her partner and two Whippets. Chantal's inspiration comes from nature, the countryside, and the living creatures in it. In 2011 she graduated with a 1:1 Honours degree in Illustration. Her graduation project was highly commended in the MacMillan Prize, and in 2013 she was highly commended in the AOI Awards. Since graduating, Chantal has written and illustrated children's picture book apps, published by Tizio. One was awarded a Kirkus Star for books of remarkable merit. Chantal is represented by Hen & Ink. She has illustrated two Hubble & Hattie books about Worzel Wooface, and is author of her own children's books, including Fierce Little Grey Mouse, Edie's Little White Lie,and The Lucky, Lucky Leaf – a Horace and Nim story.
or
Not Currently Available for Direct Purchase