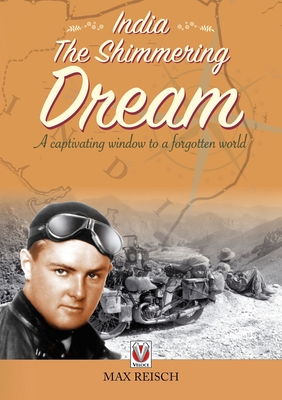 India - The Shimmering Dream (Paperback)
A captivating window to a forgotten world
Veloce Publishing, 9781787112940, 192pp.
Publication Date: December 11, 2018
* Individual store prices may vary.
Description
This extraordinary account of a remarkable journey made in 1933, through Iraq, Iran and Baluchistan (now part of Pakistan) to India is packed full of wonder, adventure, determination and love of travel and motorcycles. But what really sets this book apart are the wonderful descriptions of the people and cultures, now nearly forgotten, yet still hugely relevant in today's age: all brought evocatively to life by the stunning photos from 1933. At that time, the idea of travelling to India on a motorcycle through the Middle East was considered impossible; there were often no roads, not even any paths, and they were attempting to cross the burning deserts in the middle of August, on a tiny two-stroke motorcycle with barely enough power for the bike and rider, let alone a pillion passenger! This book is more than a fantastic adventure; it also offers some perceptive insights into the peoples, places and cultures of the time, as well as being full of drama, both personal and mechanical, as the motorcycle is urged on across the shimmering sands. A true window on the past – and a book which is definitely a 'must have' for all travel and motorcycle enthusiasts.
About the Author
Maximilian Felix Gottfried Reisch (1912-1985) made his first pioneering long-distance journey when he was still a 20-year-old student in Vienna in 1933. Together with fellow-student Herbert Tichy on pillion, he rode a 250cc Puch light motorcycle from Vienna to Bombay, crossing Iraq, Iran and Baluchistan (as documented in his book India - The Shimmering Dream). In another break from his studies in 1935, Reisch undertook a motorcar expedition into Asia which became the round-the-world trip documented in this book. In WWII he served as a vehicle maintenance officer with Rommel in North Africa (which he later wrote about in Out of the Rat Trap). After the war, Reisch worked in the family wholesale grocery business, but by the 195's he was again pushing back the boundaries of motor travel, using vehicles off the production line, which he converted to his own specifications. Many of his journeys were to the Middle East and the desert regions, which so attracted him. Keen to pass on the excitement of travel to the younger generation, he wrote up his adventures in a racy personal style which in no way obscures the carefully recorded details of the world he knew.
 
The book's translator, Alison Falls, grew up in rural Herefordshire where her father was a general practitioner. A keen motorcyclist, he introduced each of his three children to motorcycles as early as possible, thus encouraging a love of independent travel. Alison studied modern languages at Newnham College, Cambridge and subsequently taught French and German. When her brother came across the story of Max Reisch and the journey by light motorcycle to India in 1933, she was able to translate it for him and in the process developed an enthusiasm for all Reisch's books, including this four-wheel adventure.