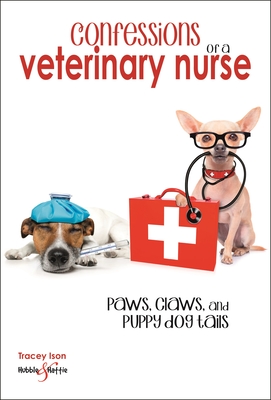 Confessions of a Veterinary Nurse (Paperback)
Paws, claws and puppy dog tails
Hubble & Hattie, 9781787112957, 112pp.
Publication Date: September 17, 2019
* Individual store prices may vary.
Description
Even as a small child, Tracey Ison dreamed of a career working with animals. That dream became a reality in 1986 when she secured a training position at a local veterinary practice. Fresh-faced and eager to learn, Tracey was thrown headfirst into life in a busy mixed animal practice. From pigs to pugs, calves to kittens from day one, Tracey realised that this was going to be no ordinary job.

Working with some truly memorable characters, from a roguish practice principal to a head nurse who was a little too keen on a tipple, alongside  committed and dedicated fellow veterinary nursing students, Tracey worked her way up from practice bucket washer to head nurse. Assisting in life-saving and tricky operations, nursing sick animals back to health, and shedding more than a tear or two, Confessions of a Veterinary Nurse is a humorous  and sometimes bittersweet account of the life and times of a veterinary nurse, where no two days are ever the same.
 
About the Author
As a child, Tracey Ison's love for animals of all shapes and sizes was apparent to all who knew her. As a teenager she embarked on her dream career as a veterinary nurse, qualifying in 1989, and has been working in small animal practice ever since. Tracey's passion is her beloved dogs and her involvement with dog rescue, being both board member and trustee of a local dog rescue centre. Tracey writes from the heart about her life with her dogs, and draws on her many years of experience, both as a veterinary nurse and as a dog owner.