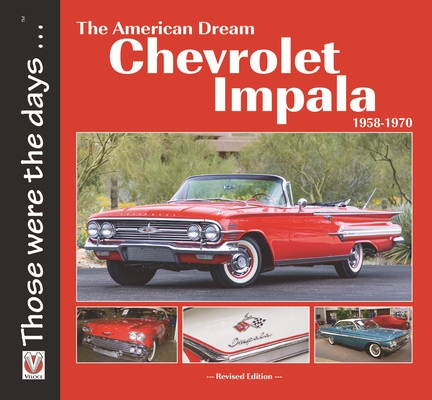 The American Dream Chevrolet Impala 1958-1970 (Those were the days...) (Paperback)
Veloce Publishing, 9781787113107, 96pp.
Publication Date: August 18, 2020
* Individual store prices may vary.
Description
The American Dream - Chevrolet Impala 1958-1970 examines the evolution of the popular Chevrolet Impala from the late 1950s stylish 'specialty' vehicle to become Chevrolet's best-selling, iconic model in North America. 

In addition, this volume focuses on specifications, rarer performance models, industry facts and figures and optional equipment, through detailed text, brochure and advertising images, along with previously unpublished photographs. The important role played by the Impala for Chevrolet is also examined, as well as GM as a whole from its top-of-the-line, 'specialty' model status to its broad range of body styles and mainstream, volume production model status.

As the 1950s ended, the Chevrolet Impala evolved into a status symbol, and added more and more style, comfort and optional equipment to its ever-increasing model range. From its similar styling and tri-colour pastel paint finishes the original Chevrolet Impala was the flashy, stylish sibling in the line-up, only to eventually return to a more conservative high-volume, mainstream car.
About the Author
Norm Mort began taking pictures of old vehicles parked at the side of the road before he was ten. At 12 years of age, Norm was the youngest member on the executive of the Antique and Classic Car Club of Canada, Toronto Chapter. In the 1960s he began accumulating photos and information on motoring. His personal vehicle collection has included everything from a 1922 D-Type Vauxhall and 1935 Morgan F2 to a 1966 Autobianchi van and 1962 Studebaker Station Wagon. A writer for magazines and newspapers such as World of Wheels, Sports Car Market, the Toronto Sun, Montreal Gazette, Old Autos, and numerous others in the field of transport for over 30-years, he has written more than 15 historic vehicle books in the Veloce series Those were the days ....