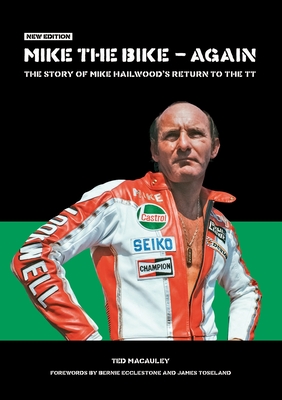 Mike the Bike - Again (Paperback)
The Story of Mike Hailwood's Return to the TT
Veloce Publishing, 9781787113138, 112pp.
Publication Date: November 20, 2018
* Individual store prices may vary.
Description
In June 1978, eleven years after he quit Grand Prix motorcycle racing, Mike Hailwood returned to the Isle of Man TT races, probably the most prestigious and certainly the most demanding road race in the world. On a privately entered V-twin Ducati he won the Formula One race, beating the works Hondas of Phil Read and the late John Williams, and breaking the lap and race records.
It may have seemed a fluke; it certainly was a fairy-tale - until 1979. Fifth in the Formula One race, despite losing top gear and his battery, first in the Senior, and second by only 3.4 seconds in the Classic - probably the finest and closest-fought race the Island has ever seen. Hailwood proved, if anyone doubted, that he was still the greatest motorcycle racer of all time.
Mike the Bike - Again, written by his manager and friend, Ted Macauley, is the account of his dramatic comeback, from the original wild idea to his final race. More than this, though, it is a study of a remarkable man in a remarkable world, and of the races, the machines, and the men who ride them.
About the Author
Ted Macauley is currently the Formula One reporter for the Daily Star Sunday, London, and weekly F1 columnist for Gulf News, in Dubai, UAE. He is also a regular car reviewer for five monthly magazines for Surrey Hills Publishing, and the Lifestyle Editor. He was the Daily Mirror's Chief Sports Feature writer, F1 and MotoGP reporter, until his retirement from the paper in 1997.
Ted met Mike Hailwood at the Isle of Man TT in 1961 when Mike rode all four solo classes and became the first rider to win three races in a week. He was just 21. Their friendship flourished from then until Mike Hailwood's tragic death in 1981. Ted has written three books about Mike Hailwood's life and career. Ted was educated at Houldsworth School, Reddish, Cheshire, read English language and literature at Stockport College, and then studied Economics and Economic history at the College of Commerce in Manchester.