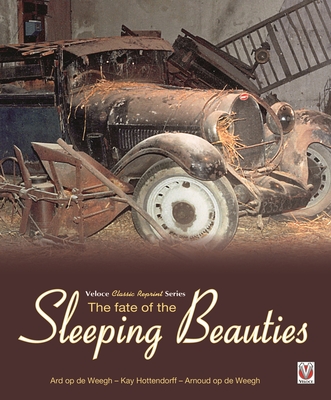 The Fate of the Sleeping Beauties (Paperback)
Veloce Publishing, 9781787113336, 160pp.
Publication Date: October 22, 2019
* Individual store prices may vary.
Description
Say 'Sleeping Beauties' to committed car enthusiasts and they will immediately know what you're talking about: a world famous 1980s photo series, showing an extraordinary collection of classical automobiles rusting away in a French barn, neglected by their owner. Famous brands like Bugatti, Lancia, Ferrari, Alfa Romeo, Cord and Aston Martin, laying under thick layers of dust, spending their remaining days falling apart in isolation.

Many have tried to find out what happened to these cars since the photographs were taken – decayed? destroyed? sold? – but all leads fizzled out ... until two Dutchmen and a German hung on where others had given up. In true 'Boy's Own' style, their book tells of the three-year-long search for the fate of the cars from that French barn. It tells the story behind the collection's origins in 1948, through to the moment in 1983 when the famous photos were published, up to the day in 2007 when the authors talked to the current 79 year old owner – a man who finally broke his silence about the fate of his collection for the first time in 25 years.
About the Author
From a very young age Ard op de Weegh was obsessed with cars, visiting showrooms and car events with his father to see the most beautiful cars ever built. Becoming addicted to the heady mixture of gasoline and oil, as he grew older his love for the automobile continued to grow. In 2008, Ard wrote his first automotive book, The Fate of the Sleeping Beauties, together with his son Arnoud, to whom he has passed on his love of cars. Father and son have traveled around Europe for many years, seeking out the most beautiful cars, and have discovered some extraordinary barn finds, many of which feature in the book. In 2009 Ard and Arnoud were asked to write about the fabulous Schlumpf collection and the intriguing story behind it. At first they declined, because there were already many books on the subject. However, after investigating the history, they discovered that the "Schlumpf affair" was actually very different than originally reported. The pair decided to write the book to tell the true story behind the affair, and Schlumpf: The intrigue behind the most beautiful car collection in the world was the result.
Kay Hottendorff, born in 1969, is an electrical engineer from Northern Germany, who has been fascinated by classic cars since childhood. Kay began investigating the background and fate of Michel Dovaz's Sleeping Beauties collection in 1996, when he first came across the famous 1983 photo series. The cars have haunted him ever since. Nowadays, Kay prefers cars in unrestored or even "barn find" condition over any restored classic. In his opinion, over-restored cars lose their identity and history.
Arnoud op de Weegh inherited his love of cars from his father, Ard, with whom he has co-authored two books. Arnoud is a true enthusiast for classic cars, and his particular passion is for pre-war cars.
 
or
Not Currently Available for Direct Purchase