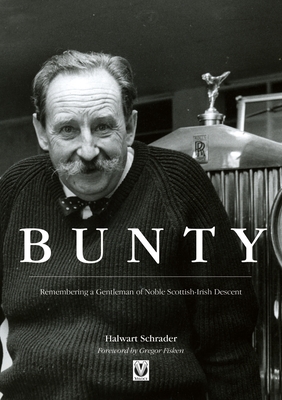 Bunty (Paperback)
Remembering a Gentleman of Noble Scottish-Irish Descent
Veloce Publishing, 9781787113480, 216pp.
Publication Date: May 21, 2019
* Individual store prices may vary.
Description
The fascinating biography of David Scott-Moncrieff, alias `Bunty' - a colourful personality, an enthusiastic car expert, a charming entertainer, and passionate vintage car addict. Bunty's favourite marque was Rolls-Royce, and, for some time, he claimed to be the No 1 in the Rolls-Royce second-hand car trade worldwide. He also owned world-famous race cars and heaps of worn-out hearses (to be rebuilt), supercharged Mercedes classics, and even an antique Steamer.

Here, you will meet them all, along with some of his many admirers who had the courage and pleasure to enter the passenger seat. A well-known personality on the classic car scene and in the motoring trade, this is his long-awaited biography, written by someone who knew him well. Halwart Schrader travelled to England to meet Bunty on many occasions, and has written this biography in full co-operation with Bunty's son, Humphrey Scott-Moncrieff.
About the Author
Halwart Schrader has written, translated, edited and/or published more than 300 books, mainly on motoring. After finishing studies in Commercial Art and Art History  (BA degree) 1954-1957 in Berlin, he was co-founder and associate of Friedrich W. Heye Advertising Agency, Munich. From 1964, he worked as freelancer and contributor to various motoring magazines in Germany, France, Switzerland, and USA, founding, in 1973, AUTOMOBIL CHRONIK, the first collectors' car magazine in the German language. From 1973 to 1995 he ran his own publishing business, specializing in automotive history. He has been a member of the  A.A.C.A., USA; the Michael Sedgwick Memorial Trust, UK; a contributor to the Beaulieu World Encyclopaedia of Motoring; a member of the Guild of Motoring Writers, U, and a member of he Society of Automotive Historians, USA.