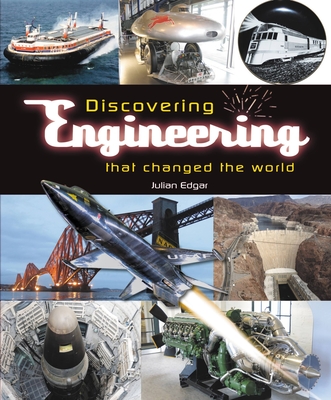 Discovering Engineering that Changed the World (Paperback)
Earthworld, 9781787113558, 144pp.
Publication Date: November 20, 2018
* Individual store prices may vary.
Description
Extraordinary engineering; extraordinary places: 
Discovering Engineering that Changed the World
takes you on a fascinating journey to visit marvelous engineering and technological achievements around the world.
From deep underground in an Arizona missile silo, to being in the pilot's seat of one of the biggest hovercraft that has ever flown.
See the world's fastest helicopter, aircraft and steam train.
Deep inside the mighty Hoover Dam – one of the most incredible structures ever built – to walking the ground where the Wright Brothers first flew.
From marveling at the jet road cars built by Rover and Chrysler, to seeing Land Speed Record cars like Bluebird and Thrust SSC.
Fascinating sights – the suspension bridge that carried all the materials for the first atomic bomb.
The world's first turbo production car engine.
The luxury lounge of the Hindenburg airship.
The first streamlined, stainless-steel diesel train.
Passionate and insightful, this is an incredible adventure through the best things the world has to offer for anyone who likes speed, technology and excitement. The result of Julian Edgar's own journey around the world, seeking out the most exciting engineering and technological sights he could find, you may well want to use this book to plan your own trip.
About the Author
Julian Edgar has worked as a teacher, writer, editor and photographer. He edited a national Australian automotive print magazine before working at an on-line car magazine for 18 years. He has contributed articles to automotive publications in the UK, the US and Australia; has written for electronics publications for more than 25 years, and currently contributes to a leading UK hobbyist electronics magazine. Julian is a hands-on modifier who performs all work on his cars himself in his home workshop. He has fitted and tuned programmable engine management, developed electronic automotive kits, and has undertaken cutting-edge electronic modifications, including hybrid cars.