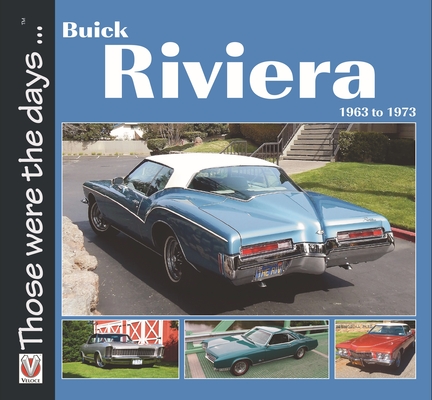 Buick Riviera (Paperback)
1963 to 1973 (Those were the days...)
Veloce Publishing, 9781787113565, 96pp.
Publication Date: February 18, 2020
* Individual store prices may vary.
Description
Buick Riviera tells the story of the Buick Riviera; how it artfully blended styling, luxury, comfort and performance from its earliest years as a trim model, to its dramatic debut in 1963 as an exciting unique automobile for the Buick Division. By 1960, Buick sales were tumbling steadily downward and it became obvious that drastic changes were required in not only styling and performance, but in the GM Division's overall public image too. The Riviera of the future would not exist simply as a stylish version of another model in the Buick line-up. The Riviera was slated to lead Buick's renaissance. The Riviera would shed what was left of Buick's conservative, immediate post-war image, and thrust the Division into the groovy, swinging sixties. The Riviera over the next decade was seen as a more sophisticated 'cool' aimed at the successful up-and-coming, shirt and tie, business types, rather than the tie-dye T-shirt, blue jean, mod squad! Included in this book is all the pertinent data and information on the 1963 to 1973 Riviera models enthusiasts will enjoy, as well as a quick look at some of the sweetest customised Riviera models ever built that cruise the roadways today!
About the Author
Norm Mort began taking pictures of old vehicles parked at the side of the road before he was ten. At 12 years of age, Norm was the youngest member on the executive of the Antique and Classic Car Club of Canada, Toronto Chapter. In the 1960s he began accumulating photos and information on motoring. His personal vehicle collection has included everything from a 1922 D-Type Vauxhall and 1935 Morgan F2 to a 1966 Autobianchi van and 1962 Studebaker Station Wagon. A writer for magazines and newspapers such as World of Wheels, Sports Car Market, the Toronto Sun, Montreal Gazette, Old Autos, and numerous others in the field of transport for over 30-years, he has written more than 15 historic vehicle books in the Veloce series Those were the days ....