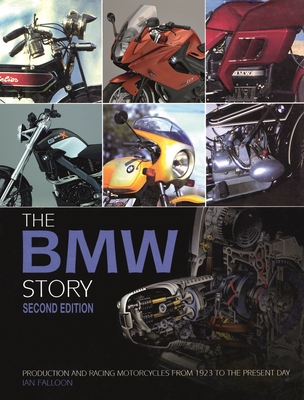 The BMW Story - Second Edition (Hardcover)
Production and Racing Motorcycles from 1923 to the Present Day
Veloce Publishing, 9781787113589, 288pp.
Publication Date: June 18, 2019
* Individual store prices may vary.
Description
This new edition of Ian Falloon's classic book on the history of BMW Motorcycles brings the story right up to date, and now includes all models from 1923 right through to 2019.

Over the past 80 years, BMW motorcycles have provided a unique alternative to those of other manufacturers. Some motorcycles may have been faster, certainly others were cheaper, but with their emphasis on quality and reliability, none have emulated the practicality of a BMW. With its commitment to ease of serviceability, the BMW motorcycle has become the preferred choice for hundreds of thousands of motorcyclists around the world. BMW motorcycles are made to be ridden, and if the journey includes a mixture of straight roads and bends, there is no better motorcycle. Factor in the best range of factory luggage and accessories available, and the success of BMW motorcycles isn't surprising. Ownership of a BMW is also generally a long-term affair, a refreshing change from the current trend towards almost instant obsolescence.

Falloon is a prolific author and one of the world's foremost motorcycle historians with years of experience. His other BMW books include BMW Boxer Twin Bible,BMW R90S, and TheComplete Book of BMW Motorcycles.
About the Author
Ian Falloon was born in New Zealand and studied engineering and music at Victoria University, Wellington. After a motorcycle accident brought an end to his career as a symphony orchestra oboist, he began writing articles about motorcycles for magazines including Classic Bike, Cycle World, Motorcyclist, Two Wheels, Motorcycle Sport, and Australian Motorcycle News. His first book, The Ducati Story, has run to several editions and has been published in three languages. The success of The Ducati Story led to a series of Ducati books and histories of Honda, Kawasaki, BMW, and Moto Guzzi motorcycles including Motorbooks titles The Complete Book of Ducati, The Complete Book of Moto Guzzi, The Complete Book of Triumph Motorcycles, and The Art of Ducati. With an interest and passion spanning decades, Ian now concentrates on collecting and restoring older Italian motorcycles, particularly Ducati, MV Agusta, Laverda, and Moto Guzzi. He lives in Melbourne, Australia, and is ably supported in his projects by his family.